'First ever' fall in global TB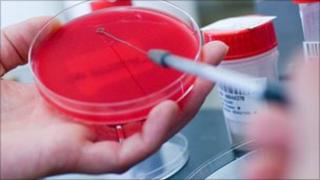 The number of people falling ill with tuberculosis has declined for the first time, according to the World Health Organization.
New figures show the global death toll has also fallen, to its lowest level in a decade, with major headway made in China, Brazil, Kenya and Tanzania.
But the WHO warns that a lack of funds threatens progress, especially in relation to multi-drug resistant TB.
UN Secretary-General Ban Ki-moon said there was no cause for complacency.
According to the WHO, the figures represent a significant milestone in the battle against a disease that infects one third of the world's population, although only a small proportion become sick as a result.
The number of people who died from tuberculosis peaked at 1.8 million people in 2003; by 2010 this had declined to 1.4 million.
Challenges ahead
Spectacular progress was made in China, said the WHO, where the death rate fell by almost 80% between 1990 and 2010. In Kenya and Tanzania there has also been a substantial decline in the last decade after a peak linked to the HIV epidemic.
"This is major progress. But it is no cause for complacency," the UN Secretary-General said in a statement.
"Too many millions still develop TB each year, and too many die. I urge serious and sustained support for TB prevention and care, especially for the world's poorest and most vulnerable people."
Money is the key to the current progress, said the WHO, particularly domestic funding in larger countries like Brazil.
But the organisation warned that substantial challenges lie ahead, with a projected gap in funding of $1bn for 2012.
Another problem is the multi-drug resistant form of the disease.
A new rapid test is revolutionising diagnosis but there is a concern that only a small percentage of the people diagnosed with multi-drug resistant TB are receiving treatment.