Women criticise miscarriage care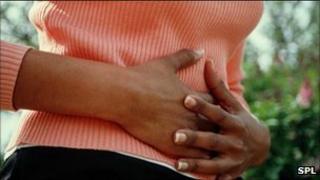 Women are unhappy with the NHS care they receive after miscarriage, two surveys have shown.
Mumsnet polled about 1,400 women who had miscarried in the past 10 years and found dissatisfaction with their care, including long waits and being treated alongside pregnant women.
A second survey by gurgle.com of 500 women found almost two-thirds felt they were not given adequate information.
About one in four pregnancies ends in miscarriage.
Mumsnet has set out a five-point Miscarriage Code of Care, calling for better support from healthcare staff, access to scans and more information on treatment.
Its survey found 63% of women who miscarried at home following a hospital scan were not offered adequate pain relief.
Almost half (48%) of those who were in hospital for their miscarriage were treated alongside pregnant women or those with newborn babies, causing unnecessary distress.
And more than a fifth (21%) of those referred for a scan had to wait three days or more for it, while 35% of women who needed a surgical procedure had to wait four days or longer.
Mumsnet co-founder Justine Roberts said: "There is no getting away from the hurt of miscarriage, but there are a number of simple changes that could make a considerable difference to the level of trauma miscarrying parents undergo."
'Unacceptably high'
The gurgle.com survey reported 14% were told they needed to experience four or more miscarriages in a row before they could be tested for a cause.
However, the recommendation is for women to be referred after they have experienced three.
Jane Brewin, chief executive of the baby charity Tommy's, said: "Sadly, one in four mums will miscarry at some point during pregnancy, and this is unacceptably high.
"More research is needed to understand what goes wrong and to treat those affected, and the very high standards of care delivered by many health professionals need to be consistently applied across the UK."
Health minister Anne Milton said: "Miscarriage is devastating for women and their partners, so it is essential that they get the best care to deal with the physical and emotional effects.
"Every woman who has a miscarriage should be given high quality care to meet their individual needs and help them through the trauma."