Servicemen urged to seek help for mental war wounds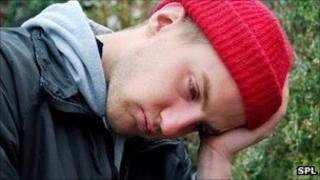 The Ministry of Defence has launched a campaign to promote better awareness of the mental health injuries of war.
Called "Don't bottle it up", it aims to remove the stigma from wounds that cannot be seen - and urges servicemen and women not to ignore warning signs.
The charity Combat Stress says 85% of veterans are too embarrassed to admit to depression or anxiety, while one in three fail to tell their families.
The launch coincides with World Mental Health Day.
Psychological scars
Staff Sgt Vicky Charnock became ill after several tours of Afghanistan - but found it difficult to talk about her problems when she most needed to. Eventually, she was diagnosed with depression.
Vicky says: "While I was going through it, I didn't want people to know - I was embarrassed about it.
"But once I got better and realised how common it is I realised that there was no need to be embarrassed or ashamed - and at that point I was more than happy to talk about it now if it comes up in conversation, and say this was what I went through."
One practical measure that's already been introduced is trauma risk management training - or Trim for short.
More than 5,000 servicemen and women have been trained to recognise the signs of mental distress in their comrades, so they can encourage troops suffering in silence to get help.
Sgt Dave Harrison, Trim trainer, said: "There's still an expectancy for our soldiers - guys and girls - to crack on with the job, knowing the difficult task that they have.
"But what we've got with them with that is that if anything goes wrong, we're going to support you, not just physically, but mentally. We have mental systems in place now - psychological systems and pillars of support - that will help you if you're suffering from a traumatic event."
It is hoped that encouraging service personnel who struggle with the events and scenes they have witnessed, to share their burden sooner, rather than later, will avoid long-term damage.