Researchers seek patients for diabetes 'dating agency'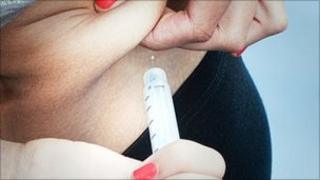 A massive recruitment drive is under way to match up thousands of diabetes patients with research projects aimed at finding a cure for the disease.
The scheme is being likened to a kind of "dating agency" that puts researchers and patients in contact.
Researchers say about 30% of cancer patients may be taking part in clinical trials, but for diabetes that figure is less than 1%.
About 2.8 million people in the UK are known to have diabetes.
But the charity Diabetes UK believes another 800,000 people may not know they already have the disease.
Hard to find
Part of the reason researchers have found it hard to find diabetes patients is that most only see their GP.
But three regions in England have been chosen to pilot a scheme which aims to offer 25,000 patients, with any form of diabetes, the chance to take part in clinical trials or other forms of research.
A recruitment drive is taking place in north-east London and the south-west and north-west of England.
Prof Martin Gibson, from the Diabetes Research Network at Salford Royal NHS Foundation Trust, says clinical trials are essential in order to find better treatments for diabetes - or even a cure.
"Pretty much everyone I talk to with diabetes is interested in research but they don't get the opportunity.
"It's not like cancer where people are increasingly offered the chance to take part in research projects.
"Part of the problem is that people with diabetes are very often out in the community, which is not where the researchers are.
"So what we're trying to create is a dating agency so we can bring the two groups together, because both are very interested in trying to find a cure for diabetes."
Diabetes UK estimates that about 10% of the total NHS budget across the UK is spent on illnesses related to the disease.
The charity calculates this works out at about £173m a week - or £1m an hour.
Dr Iain Frame, director of research at Diabetes UK, said: "This is a huge opportunity for people with diabetes to play their part in crucial research that is piecing together the gaps in our knowledge and in our understanding of the condition.
"This exciting campaign will help future generations of people diagnosed with this serious, life-long condition and help us take a step further to a future without diabetes."