Nurofen Plus: Man charged with contaminating packs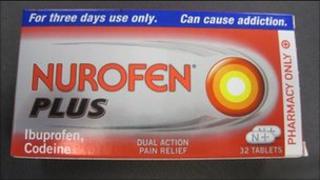 A man has been charged with contaminating packs of Nurofen Plus which were found to contain anti-psychotic and anti-epileptic drugs.
Christopher McGuire, from south London, is charged with one count of contaminating goods and two of administering a noxious substance.
The 30-year-old is due before Westminster magistrates on Monday.
Manufacturer Reckitt Benckiser recalled the pain relief tablets and stopped its distribution on 26 August.
Four packs were found to contain the drug Seroquel XL 50mg. They were bought in Victoria, Bromley and Beckenham in south London.
A pack containing prescription medicine for epilepsy, Neurontin, in 100mg capsules, was discovered in Northern Ireland.
Seroquel XL is a prescription-only anti-psychotic drug used to treat several disorders including schizophrenia, mania and bipolar depression.
Most people who took one Seroquel tablet would experience sleepiness, but those on sedatives could have felt stronger effects.
Nurofen Plus is for pain relief and contains codeine and ibuprofen.
The entire production line of the drug is being examined by the Metropolitan Police's Specialist Crime Directorate.