Physiotherapists may get medicine prescribing rights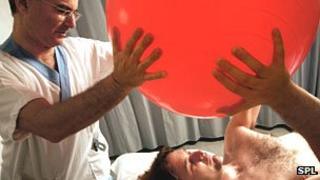 Physiotherapists could soon have the right to prescribe medicines to patients, in the same way that nurses and pharmacists are allowed to.
At present, physiotherapists can only prescribe medication when working with the written authority of a doctor.
A Department of Health consultation exercise envisages them being able to prescribe medication for pain relief and conditions such as asthma.
The Chartered Society of Physiotherapy says this will improve patient care.
In 2002, specially trained nurses were given the right to write prescriptions for a wide range of drugs, including antibiotics for infections.
In 2004, the then Health Secretary John Reid started the push to give prescribing rights to optometrists, chiropodists, physiotherapists and radiographers.
Under the current proposals, physiotherapists would be able to prescribe a range of medication for respiratory diseases such as asthma, neurological conditions such as the effects of a stroke, and for pain relief.
'Best placed'
Ann Green, chairwoman of the Chartered Society of Physiotherapy, said the consultation was a major step towards improving patient care by physiotherapists.
"The other big benefit is that the new rights will relieve a currently unnecessary burden on doctors who are simply asked to write a prescription for medication recommended by the physiotherapist.
"Though the proposed change will mean greater responsibilities and additional training to become independent prescribers, physiotherapists are well placed to take this on as they have already been 'supplementary prescribers' since 2001."
Pip White, medicines and prescribing professional advisor at the Chartered Society of Physiotherapy, said acquiring the right to prescribe medication was not about the profession.
"This is about making things better for patients, so they can get the appropriate medicines from the health professional who is best placed to help them."
"It is important to bring us into line with professions like nurses and pharmacists."
She added that not all physios would get the right to prescribe medication.
"Physiotherapists would have to undergo a training course and be approved before being allowed to be an independent prescriber.
"This is really only for experienced physios who are specialists."
At present there are 35,000 registered physiotherapists with The Chartered Society of Physiotherapy, but only 200 of them are "supplementary providers".
Mr White said this number would grow if the proposals were given the green light.
A full government review will take place after the consultation. If enough support for the plans is shown then amendments to the Medicines Act 1968 and the Misuse of Drugs Regulations 2001 would be required.
A spokesman from the British Medical Association it was were open to the proposals and added: "Doctors undergo years of training to equip them with the skills to be able to prescribe medicines for all conditions.
"However, there is a role for other healthcare professionals to prescribe from a limited range of medicines for specific conditions.
"Nurses and pharmacists have been able to do this since 2009. Any extension of prescribing rights to other healthcare professionals should be accompanied by rigorous training as patient safety must be paramount.
"It will also be important for physiotherapists to ensure they tell GPs about their prescribing decisions so a comprehensive patient record can be maintained in order to avoid adverse events occurring."