Hospital saves fortune just by swapping rubber gloves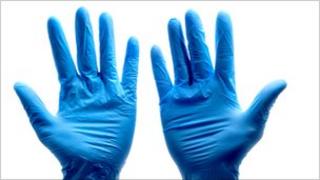 The government hopes smarter procurement can help the NHS in England to save more than £15bn over the next three years - and some hospitals are already proving it can be done.
One of London's top teaching hospitals has saved the taxpayer more than £300,000 a year - just by changing its order for rubber gloves.
Barts and the London NHS Trust used to buy 20 different types of examination gloves for medical staff.
But by limiting the choice to just two, the trust's procurement team has nearly halved the bill.
"We spend over £700,000 a year on examination gloves.
"What we have done now is to move to one supplier, and we will be saving £320,000 this year just by standardising to a better value product," says Zoe Greenwell, who leads the trust's procurement team.
It is the kind of common-sense saving that the government is hoping all 168 hospital trusts in England will make.
Ministers want to save between £15bn and £20bn from the NHS budget in England over the next three years. And at least £1.2bn of that is expected to come from the hospital procurement budget.
But there is a problem for the government. By 2014 nearly all hospitals will be run as independent foundation trusts, and ministers will have little direct control over their spending priorities.
'Prize that's being lost'
A National Audit Office (NAO) report found that there is already a lack of standardisation and bulk buying by NHS trusts when it comes to the everyday consumables that fuel a hospital - everything from A4 paper and rubber gloves to cannulas, the plastic tubing used to administer drips.
"We found that trusts bought 21 different types of A4 paper and 652 different types of rubber gloves… and somewhere over 1,700 different cannulas," says Mark Davies, director of health value for money studies at the NAO.
Hospitals are also paying a wide range of different prices for exactly the same item, with some paying 50% more than the best performers.
"We estimate that there is something like £500m being lost every year on spending of £4.6bn. It's the prize that's being lost by the NHS if only they could get themselves together and procure more efficiently," says Mr Davies.
Health minister Simon Burns insists that the waste must stop:
"It is absolutely crazy; this is why we need to get greater transparency into the system, to get better practice and for trusts to look more at how they can bulk purchase," he says
Hospitals like Barts in London are already successfully collaborating with other trusts in England to compare prices and reduce costs.
But attempts by hospitals to work together to maximize their buying power with suppliers have not always worked.
'Vicious circle'
Orthopaedic surgeons at the University Hospitals of Leicester tried to secure a better deal on the price of knee joints by banding together with other hospitals in a body called the East Midlands procurement hub.
Figures nationally suggest the price paid by trusts for the same knee joint can vary from £1,400 to £2,500.
With Leicester performing 1,600 knee and hip replacements each year, the trust hoped to make significant savings. However, it found that its existing deal was better than the average price the hub was able to deliver.
"It was going to cost an extra £100,000 a year to procure our prostheses via the hub rather than carrying on doing it ourselves because we had already achieved very low costs locally with our suppliers," says orthopaedic surgeon Andrew Brown.
"My expectation would be that the hub should look at the lowest price currently being paid, and bring everyone to that lowest price, because unless the companies are selling at a loss to ourselves, there's no reason why everyone else shouldn't be buying things for the same price as we do.
"What it seemed to end up with was an average cost across what people were paying at that moment, which meant there were always going to be losers within the system."
Leicester decided to go it alone for orthopaedic supplies, and the East Midlands procurement hub has now folded.
The NAO inquiry concluded that there were too many NHS hubs in the marketplace, says its author, Mark Davies.
"There is no consistent basis for measuring their performance. So you have got this vicious circle that individual trusts don't know if they're getting value," he says.
"They think if they go to a hub that they might get a better deal [but] they don't really know what a better deal looks like. The hubs may be competing with each other in a not very effective way.
"Our conclusion in the report was that there needed to be a fundamental rationalization of the hubs, because too many of them are doing the same thing not very effectively."
By not setting procurement as a performance target, the government is banking on trusts taking the initiative.
It hopes a new system of barcoding hospital supplies will help trusts shop more effectively for low-cost, high-value consumable goods, and wants trusts to cooperate more to negotiate the best deals from suppliers.
Health minister Simon Burns insists that the impetus must come from the trusts themselves:
"You can't lose sight of the fact that the NHS trusts are independent organisations," he says.
"It is important that they have got the freedom to be able to make the commercial decisions that they believe are right for their community including the products that they buy.
"But what we are doing is working with the existing networks to raise awareness of efficient procurement practice.
"This is something that needs to be recognized at a trust board level, and we are developing standards for good procurement so they can be understood and brought in throughout the organisation."
File on 4 is on BBC Radio 4 on Tuesday 27 September at 20:00 BST and Sunday 2 October at 17:00 BST. Listen again via the Radio 4 website or download the podcast.