Hospital births move has halved newborn deaths in China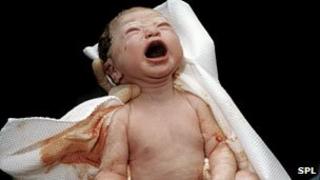 A campaign encouraging women in China to give birth in hospital has cut newborn deaths by half, says a study in The Lancet.
Researchers from Beijing and London found that babies born in hospital were two to three times less likely to die in their first month than those born at home.
The study analysed 1.5 million births between 1996 and 2008 in China.
Some experts said other factors could have played a part in the findings.
Since 2000, China has been promoting hospital delivery, and nearly all babies are now born in hospital except in the poorest regions.
A team from Peking University and the London School of Hygiene and Tropical Medicine used data from China's Maternal and Mortality Surveillance System to examine trends in neonatal mortality by cause and socioeconomic region.
The results showed that deaths in neonates (within the first month of life) fell by 62% over 12 years up to 2008.
The neonatal mortality rate in China fell from 24.7 per 1000 livebirths between 1996 and 1998, to 9.3 per 1000 between 2007 and 2008.
In urban hospitals in China, the mortality rate for newborns is five per 1000. For babies born at home in urban areas it is 17 per 1000.
The findings also showed that babies born in hospitals in the poorer rural areas were almost four times more likely to die than babies born in hospitals in urban areas.
The study suggested this could be the result of lower quality hospital care in rural areas, or hospital care being sought too late in the poorest areas.
Care is crucial
Professor Carine Ronsmans, from the London School of Hygiene and Tropical Medicine, said other countries could learn from China's progress in reducing neonatal mortality.
"We can't prove in this study that it's the hospitals that made the difference but there is a strong indication that it's much safer to give birth in hospital than at home.
"There is a very big drive in poor countries to do community-based interventions because people think it's cheaper and more effective.
"But in the long run you have to get women into hospitals if you want to lower mortality rates for mother and baby."
And Prof Ronsmans cautioned that quality of care was still of primary importance in China.
"Hospital delivery does not save babies' lives unless high-quality neonatal care is available and accessible in the crucial first few days after delivery."
Writing about the research in The Lancet, Dr Diego Bassani and Daniel Roth, from the Hospital for Sick Children at the University of Toronto in Canada, said the link between increased numbers of hospital deliveries and reduced neonatal mortality rates was not straightforward.
"The rate and magnitude of the increase in the proportion of facility-based deliveries between 1996 and 2008 varied substantially across China's five socioeconomic strata, which contrasts with the uniformity of the proportional decline in neonatal mortality.
"This finding suggests that factors other than facility-based delivery could have been involved.
"Although the investigators report strong associations between neonatal mortality and place of birth (home versus hospital)… Many characteristics differentiate families that choose (or have access to) facility deliveries and those who deliver at home; such differences would be expected to exist within, and not just between, sociodemographic categories."