Why are Britons so gloomy in middle age?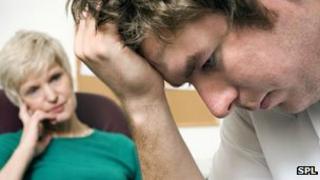 Middle age can be a testing time. Mounting responsibilities, falling energy levels and the knowledge that youth is fast receding and old age is the next stage are the classic ingredients for a mid-life crisis.
The children are still at home, the career is not quite where it should be and the mortgage is a long way from being paid off.
In general terms, levels of anxiety and depression increase as people reach their 30s and 40s and tail off again when the pressure and stress lessens during our 50s and 60s. Unsurprisingly, happiness levels follow an entirely contrasting pattern.
But are the British particularly prone to despair and depression during their 40s and early 50s?
A recent survey of 13,000 people in 12 different countries found that 27% of the Britons in this age group said they suffered from depression, compared with just 17% internationally.
This is compounded by a gloomy outlook on life in which 45% of British 45-54-year-olds say they feel negative about their financial situation, 30% feel negative about their career and 21% feel negative about life in general.
These figures are all higher than the international average.
The survey also found that middle-aged Britons were more unhealthy than most other countries, with 35% saying they were obese and 24% admitting to smoking at least 10 cigarettes a day.
This compares with an international average of 17% obesity - half of the UK figure - and 18% admitting to being smokers.
So is there a connection between the mental health and physical health of 40-somethings in the UK?
Culture link
Dr Sneh Khemka, medical director of Bupa International, who carried out the survey, says our perceptions of our wellbeing are linked to general health and lifestyle.
"There are always a combination of factors but poor lifestyles compound depression, and people who feel depressed are less likely to be active and eat healthily. Family and work pressures also mean that health slips down the priority list."
Professor Richard Layard, director of the wellbeing programme at the London School of Economics, says happiness levels are closely related to the culture in which we live.
"There is a lack of social support in the UK, a lack of encouragement, some might say, and a culture of individualism.
"Happiness levels are lowest in people in their 40s - they are the people under pressure, wondering if they are going to fulfil their lifetime's ambition. By the time they reach their 50s and 60s, the stress is less and they tend to be more accepting about where they have got to."
Compared with France and some Mediterranean countries, Britain is generally seen as a less family-oriented society.
Phillip Hodson, senior registered psychotherapist and fellow of the British Association for Counselling and Psychotherapy, believes that is the reason for the high feelings of depression.
"Brits probably have more individual fun but we don't have the same social bond and social care that comforts others.
"We are more socially mobile and our envy is greater too. We see how wealthy the wealthy are, and it is depressing to fail to match up."
Mood change
But there are also the simple facts of life. Seventy may be the new 40 but our mortality is still unavoidable.
"Being middle-aged means you are halfway through life. You may be looking at more years of life behind you than ahead of you and this influences how you feel," says Hodson.
At the same time, biological and physical changes in men and women, which signal the passage of time, can prompt behaviour changes and crises.
The menopause and falling testosterone levels are, for many, nothing to be cheerful about.
So while mid-life crisis-hit Brits may be gloomy about their lives, they are increasingly likely to talk about it to a professional.
The British Association for Counselling and Psychotherapy says 83% of people have had or would be prepared to have counselling psychotherapy about issues like depression, relationship break-up, grief, and stage of life problems.
It is when people can't or won't access help that the problems can deepen.
Prof Layard says psychological therapy can transform people's lives.
"It is the single best way of changing the mood of people. Treatments will pay for themselves. Our wellbeing costs the government nothing to tackle.
"Yet the mentally ill are more likely to be physically ill, so costs to the NHS are substantial and the costs to the benefits system are also."
By the age of 60, we may well possess wrinkles and grey hairs, but the good news is that we will probably be considerably happier.