Private sector have huge NHS opportunity - minister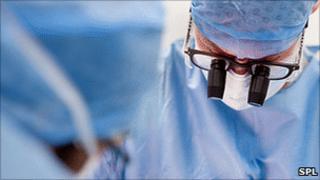 The overhaul of the NHS in England presents "huge opportunities" to the private sector, a health minister says.
Lord Howe also said it should not matter "one jot" who provided care to NHS patients as long as it was free at the point of delivery.
The comments - made in a speech to private health groups in London - have reignited the row over the future role of competition in the NHS.
Unions said they showed what the government's true intentions were.
Lord Howe was addressing the conference on the day the Health Bill was being debated by MPs in the House of Commons.
'Great opportunity'
The legislation has proved to be one of the most controversial areas of government policy.
It had to be put on hold earlier this year while ministers re-consulted on the proposals amid mounting criticism.
The overhaul involves giving GP-led groups control of the NHS budget, while opening up the health service to greater competition.
Ministers have always stressed they want to use competition as a way of driving up standards in care.
It was a theme taken up by Lord Howe in his speech.
He said standards varied throughout the NHS and by giving patients more power and creating a more transparent system with a "broader range of providers" performance could be improved.
He then said: "To be honest I don't think it should matter one jot whether a patient is looked after by a hospital or a medical professional from the public, private or charitable sector."
He then went on to say what was important was that the care was free at the point of delivery and competition was allowed on quality not price.
"The NHS isn't a place to earn a fast buck. There are some outstanding performers in the NHS and they will not give up their patients easily."
He said that the changes being made presented "huge opportunities" to private groups who could provide high quality care.
And he added: "In the coming months and years, the NHS is going to evolve and grow into a very different animal."
However, after the speech he released a statement once again reiterating that the government would never privatise the NHS.
Anger
Dave Prentis, general secretary of Unison, said: "The Conservatives are completely at odds with public opinion if they seriously believe that it should not matter 'a jot' who provides health care.
"How can the government continue to argue that this bill is not about privatisation, when they are telling private healthcare companies that it presents 'huge opportunities'?
"Survey after survey shows that the public care deeply about who delivers care. They do not want private companies coming in and making a profit out of the NHS."
Dr Laurence Buckman, of the British Medical Association, said: "Lord Howe's comments betray how deep the government's misguided obsession with competition goes.
"Encouraging private providers in, in this way, to compete against other providers will only make it harder for clinicians to work together effectively - and it's that, not competition, which improves patient care and the cost-effectiveness of the NHS."
And Dr Clare Gerada, chairman of the Royal College of GPs, said the comments were "very revealing", adding it sounded like the government was inviting a "free-for-all".
Shadow health secretary John Healey added: "This confirms what doctors, nurses, health professionals, patients' groups and Labour have all warned."