Warning over global cancer levels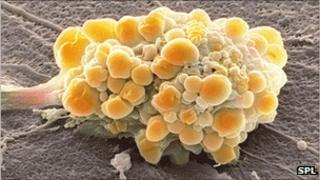 The number of new cancer cases has increased by 20% in under a decade and now stands at 12 million a year, according to the World Cancer Research Fund.
It warns that nearly a quarter of those cases are "preventable".
The figures have been released ahead of a United Nations meeting on diseases including cancer.
The WCRF said there was a "once in a generation" opportunity to reverse the trend.
It calculated that 2.8m new cancers each year are linked to diet, exercise and obesity.
The figure is expected to rise "dramatically" over the next decade, the organisation warned.
Professor Martin Wiseman, medical and scientific adviser for WCRF, told the BBC: "The truth is the number of cases around the world is going up partly because we are an ageing population, but also because of changes in lifestyle.
"As countries become more urbanised, they become more prone to the Western diseases that we are used to seeing. Not just cancers - coronary heart disease, diabetes, obesity and lung diseases."
He said: "Many people are still unaware that risk factors such as alcohol and obesity affect cancer risk, while from television advertising to the pricing of food, our society works in a way that discourages people from adopting healthy habits."
Later this month, the UN is holding a summit on non-infectious diseases such as cancer, heart disease and diabetes.
Professor Wiseman said the summit: "offers the chance to look at public health issues at the international level."