Nurses and midwives urged to get flu jab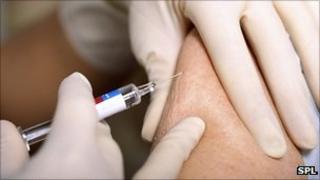 Nurses and midwives are being urged to get their flu jabs after figures reveal less than a third did last year.
All front-line healthcare workers are meant to be vaccinated to stop them going off sick with influenza and spreading the virus to patients.
Last year only 30% of hospital nursing staff in England got immunised compared with 43% of GP practice nurses, 38% of GPs and 37% of other doctors.
Nursing and midwifery groups say having the jab is a "professional duty".
This is the first time the figures have given broken down by occupation.
The number of healthcare workers getting the vaccine had increased from 26.4% in the 2009 winter to 34.7% in 2010.
However, the majority of nurses who work with the most critically ill over the winter months and midwives who work with pregnant women, were left vulnerable to flu, its potentially life-threatening complications and passing it on to patients and family, says the Department of Health which released the figures.
The data also shows that only 25.2% of youngsters aged six months to two years in at-risk groups were vaccinated last winter, compared with 51.7% of those aged 16 to 65.
Those at risk include people with conditions such as asthma, diabetes, heart disease and liver disease, as well as the over-65s and pregnant women.
Last winter people in at-risk groups were 11 times more likely to die from seasonal flu than people with no underlying health problems.
Chief Medical Officer Dame Sally Davies said: "It is never too early to start thinking about flu. So as NHS staff return from their holidays, I urge them to plan ahead and get vaccinated."
Dr Peter Carter, of the Royal College of Nursing, said while NHS staff should not be forced to get immunised, they had a professional duty to do so: "Patients and healthcare staff suffer when nurses are off sick.
"It is vital that nurses do all they can to take responsibility for their own health and of those around them. The RCN will be working with our members to ensure they have access to all of the relevant information to enable them to make the right decision about the uptake of the vaccine."
Louise Silverton, of the Royal College of Midwives, said: "Midwives are strongly advised to encourage all pregnant women to be vaccinated against seasonal flu.
"In addition midwives as key health workers should themselves seriously consider being vaccinated to prevent transmission of influenza to the women for whom they care and also to their own families."
A National NHS Staff Seasonal Flu Vaccination Campaign launches later this month and will use resources like Twitter and Facebook, as well as leaflets, to encourage more healthcare professionals to get vaccinated.