Campaigners say bread still contains too much salt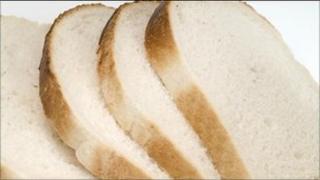 Salt generally gets a pretty bad press. Today it was bread manufacturers in the firing line, for high levels of salt in some loaves.
But behind the headlines, it's possible to see what's happening to salt levels in food as a success story.
Take bread for example. It's reckoned that levels of salt in bread have fallen by about a third over the past decade.
"Outrageous"
Most supermarket bread meets the current voluntary target of no more than 1.1g of salt per 100g of bread - about two thick slices.
The British Retail Consortium reckons most breads will meet the lower target of 1g of salt by the end of 2012. By gradually lowering the levels of salt over the years, it seems consumers have not noticed the difference.
Professor Graham MacGregor, the chairman of Consensus Action on Salt and Health (CASH), said it was "outrageous" that bread still contains so much salt.
A bit of outrage often helps move a story along, but Professor MacGregor was more nuanced when I spoke to him.
He said that after some initial opposition, the food industry had been "pretty co-operative" about reducing salt levels and most processed meat, cheeses and soups had seen their salt content reduced by around a fifth in the past few years.
"The voluntary agreement with industry has been a success story in the UK which the rest of the world is now copying."
He said once the 2012 target had been met for salt in bread, another stricter target would be sought.
Crusty
Andrew Opie from the British Retail Consortium said: "There are some problems with the salt content of some niche speciality products and we are working to see how and if their salt content can be reduced."
It was interesting to talk to the French artisan bakery firm Paul, which has shops around London. Their Pain de Campagne topped the CASH survey by apparently containing 2.83g of salt per 100g of bread.
That sounds like a lot of salt and at £2.45 for a small loaf, it doesn't come cheap. A spokesman assured me it came from a recipe handed down through five French generations.
Bizarrely though, the salt content of Paul's bread was higher in its 41 English shops than the 300 or so it has around France. Until today.
The company explained the French shops had already reduced their salt content to meet French government targets on salt.
Now the British shops have followed suit, as a direct result of the CASH survey and they have said there will be further reductions.
My father was a baker so I was raised - forgive me - on mountains of bread. My love for the stuff continues, especially crusty loaves. I even make the stuff myself which allows me to control the amount of salt.
So how much salt does an adult need? It depends who you ask. The Royal Society of Chemistry has this on its website: "Based on the requirements of a human body, an average adult requires an intake of 4.2g salt per day. The minimum requirement is 1.5g."
The National Institute for Health and Clinical Excellence hopes to see a maximum consumption of 3g per day by 2025.
Graham MacGregor, who's Professor of Cardiovascular Medicine at Barts and the London School of Medicine reckons it is less than 1g.
The Salt Association, on its website, claims "there is no evidence that salt causes high blood pressure" - a comment which is likely to give hypertension experts, well, high blood pressure.
update
Paul has issued a statement saying that a "simple error in translation" has meant that the salt levels in its bread were incorrect on its website. Apparently "salt" was translated as "sodium" meaning its Pain de Campagne did not have the highest level of salt in the survey. You can read the statement via the CASH website here.