Leading Lib Dem urges rebels to back the Health Bill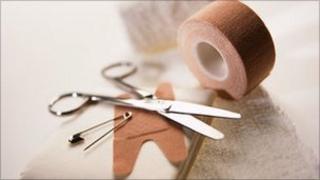 A leading Liberal Democrat who previously voiced misgivings about the Health Bill is urging party colleagues to back the reforms.
Norman Lamb had threatened to quit his post as Nick Clegg's chief adviser in April over the NHS restructuring in England.
The MP feared the plans posed a major "financial risk" to the NHS.
But now he is urging potential rebels to back the legislation, to give the health service "certainty".
The government's Health and Social Care Bill returns to parliament next week - and is likely to face a tough time in the House of Lords in October.
Robust debate
Mr Lamb, who was once the party's health spokesman, told the BBC: "Above all else, let's get the legislation through. Let's give some certainty to the NHS, so it can achieve the efficiency savings that are so important.
"Of course we've got to get it right and ensure that the amended clauses meet the objectives set by the listening exercise.
"The mass of opinion now recognises it's not in the interests of the NHS to obsess on a continuing basis about the minutiae of this bill."
The bill has been amended as a result of efforts to listen to criticism. But some critics complain the new version has introduced too many layers of bureaucracy, while others insist there's still too much emphasis on competition.
Despite the delay to the legislation, change is already happening on the ground.
GPs are forming new commissioning groups as they prepare to take control of a big chunk of the NHS budget.
And an auditors' report shows more than 7,000 staff have left the health service in the past year. Many were managers in primary care trusts. The average pay-off was £40,000.
Mr Lamb is a government whip and he also chairs the Liberal Democrats' federal policy committee.
He revealed that efforts to get the Health Bill on to the agenda at the party's annual conference have not been successful - although emergency motions could still be submitted.
He said: "The bill is much improved. We've achieved a political settlement.
"There's a much more evolutionary approach to clinical commissioning. And there's much better accountability in the governance arrangements for those groups.
"Inevitably there's a range of views, and I'm sure there will be a robust debate in the House of Lords. But let's now work together.
"Integrating services is a good thing - and I think this bill can deliver that. I'd commend it to the party."