Opticians 'should offer blood sugar checks'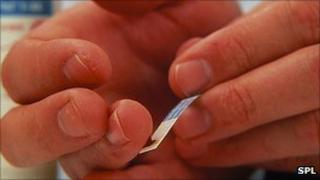 Opticians should offer blood sugar checks alongside eye tests to help spot patients with undiagnosed diabetes, experts propose.
A simple finger prick blood test in this setting could identify hundreds of thousands of people with type 2 diabetes, according to researchers.
A pilot study in northern England found the targeted screening picked up one case for every 100 people tested.
This would capture people who do not routinely visit their GP, experts say.
The Department of Health said people in England aged 40 to 72 were offered a check for diabetes alongside other vascular diseases as part of the NHS Health Check programme.
Under-diagnosed
In the UK, 850,000 people are thought to have type 2 diabetes without knowing it, while another 2.5 million people are diagnosed.
While universal screening is not currently recommended, Durham University researchers say there is a case for targeted screening.
In their study, published in the British Journal of General Practice, they asked five optometry practices to start offering finger prick tests to any customers attending for an eye check who had one or more risk factors of diabetes, such as increased body mass index or being aged over 40.
Out of nearly 2,000 customers, two-thirds were offered the blood test, and about half consented and had the check.
Of the 1,000 tested, a third were found to have abnormally high sugar levels in their blood suggestive of diabetes and were advised to visit their doctor for further tests.
162 people took the advice and went to see their GP, and of these 138 said they were sent for more investigations.
And this led to nine people being diagnosed with pre-diabetes and seven with diabetes.
Dr Jenny Howse, who led the research along with colleagues at The James Cook University Hospital in Middlesbrough, said: "The screening test is less invasive and time consuming than fasting blood glucose and oral glucose tolerance tests.
"Already pharmacists and chiropodists have shown it is feasible to offer screening in their practices, here in the UK as well as in Australia and Switzerland.
"In the US, 60% of adults visit dentists at least once a year for standard check-ups and those practices could be suitable locations to screen for diabetes.
"In the UK, our initial results show screening for diabetes in opticians is a feasible option but we now need to look at the practicalities of delivering it, including liaison between opticians and GPs and the time costs for opticians."
'Can be misleading'
But the charity Diabetes UK does not recommend finger prick tests for risk assessment.
A spokesman said: "Finger prick tests on their own can be misleading.
"Blood glucose levels can vary in all individuals during any given day, and these tests also do not factor in other risk factors for developing Type 2 diabetes, such as having a large waist or a family history of the condition.
"People with one of more risk factors may be falsely reassured if they have a normal glucose reading.
"Also, a positive diagnosis can cause anxiety if someone does not have access to information and advice provided by a trained healthcare professional at hand."
But he said a commitment to finding new ways of diagnosing diabetes early was "always positive".