Designer vagina NHS operations unwarranted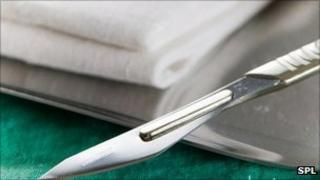 GPs should not refer women who are well but worried for female genital cosmetic surgery on the NHS, say experts.
Specialists at a Central London teaching hospital say they received 30 such referrals, mainly from family doctors, over the past three years.
This included eight schoolgirls - one as young as 11 - the British Journal of Obstetrics and Gynaecology reports.
Experts say doctors need clear guidance on how best to care for women who mistakenly believe they need surgery.
The British Association of Aesthetic Plastic Surgeons says medics need to determine whether a problem exists or whether an alternative solution may be preferable, but offers no advice on how to judge the problem, say the researchers from University College London's Women's Health Institute.
They say it may be simpler to ban the procedure in the NHS altogether, leaving it to private practices. Some Primary Care Trusts do this.
And private provider Bupa says the procedure is purely cosmetic and does not offer financial cover for the procedure.
The NHS has no such restriction.
The experts who carried out the latest work said: "A private medical insurance company seems to be able to come to a conclusion when professional bodies are reluctant to act.
"National care standards are urgently needed."
Boom industry
Dr Sarah Creighton and colleagues believe the future demand for so-called "designer vagina" operations or labial reductions is potentially infinite and is driven by society's wider and growing desire for cosmetic surgery in general and changing expectations about what is a desirable appearance for women.
"It's shocking, particularly because we are seeing girls who are really young. They are asking for surgery that is irreversible and we do not know what the long-term risks of the procedure might be."
She said latest figures for England show about 2,000 of the procedures are paid for by the NHS each year.
"That's probably just the tip of the iceberg. It's a massive boom industry in the private sector."
For the study, they reviewed all 33 women referred to their clinic between 2007 and 2010 with requests for a labial reduction.
Most of the women were seeking help because they were concerned about appearance. Only a fifth wanted the surgery to reduce discomfort. One woman said she felt compelled to have the surgery after seeing a television programme on cosmetic genital surgery.
A third of the women said they had looked at advertisements about the surgery before seeing a doctor.
Upon examination, all of the women were deemed to have "normal" genitalia by the doctors. But three were offered surgery to address "a significant asymmetry". The remaining 30 were refused any procedure.
All of the women were offered the options of sessions with a clinical psychologist to explore issues leading to their request for surgery.
Twelve of the women said they would be seeking a second opinion and would consider going private to get the surgery if they still could not get it on the NHS.
Paul Banwell, of the British Association of Aesthetic Plastic Surgeons, said the operation was merited for some women, particularly those with functional concerns like discomfort.
"But if the concerns are aesthetic, that should probably be seen in the private sector."
He said he often dissuades patients from having the surgery and explains to them that there is a spectrum of 'normal' when it comes to female anatomy.
"We welcome the opportunity to be involved in suggesting guidelines and help for healthcare professionals seeing patients who are interested in labiaplasty."