Bowel cancer awareness 'stubbornly low'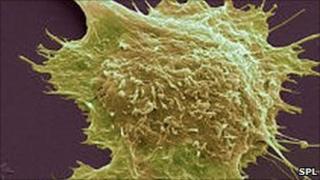 Awareness about bowel cancer is still "stubbornly low" - despite it being the second biggest cause of cancer deaths in the UK, a study suggests.
The Cancer Research UK-funded survey showed that many people did not know that lifestyle factors such as diet, weight and exercise affected risk.
The research, involving more than 1,500 people, also raised concerns about the lack of knowledge about symptoms.
Researchers said attitudes needed to change to get survival rates up.
Currently less than three quarters of the 40,000 people diagnosed each year in the UK survive for more than a year - lower than the European average.
Symptoms
This is partly to do with the low levels of early diagnosis.
It means 16,000 people die of the disease each year - the second highest for any cancer.
The survey, published in the journal BMC Cancer, found a quarter of people were unaware of any symptoms.
Less than one in 10 able were able to name anything other than changing bowel habits and blood in stools.
There was a similar lack of awareness about risk factors. One in five mentioned a close relative having the disease and alcohol consumption affecting risk, but less than one in 10 could name any others.
Dr Emily Power, who led the study, said: "This reveals that the public's awareness is still stubbornly low.
"Public health initiatives to increase awareness of risk factors are essential and not only for lowering cancer risk. Improving attitudes towards healthy behaviour can go some way towards reducing other diseases triggered by unhealthy lifestyles."
A Department of Health spokesman said: "Bowel cancer is one of the biggest cancer killers in England and we know one of the main reasons is because too many people are diagnosed late.
"That is why we trialled a campaign earlier this year, to raise awareness of the key signs and symptoms and to encourage people with them to visit their GP. We hope to launch a wider campaign shortly.
"We are also investing £60 million over the next four years to fund flexible sigmoidoscopy - a new screening technique for people around 55 - which will help save 3,000 lives every year.
"People aged 60 and over who have not been screened for bowel cancer should contact the NHS Bowel Cancer Screening Helpline on 0800 707 6060."