Marriage and divorce 'up weight', says study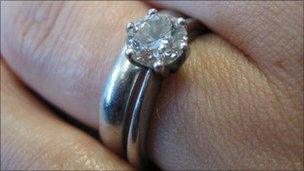 Both marriage and divorce can trigger weight gain, according to research being presented at the American Sociological Association.
There is an increased risk of piling on the pounds in the two years after a marriage starts or ends, according to their study of 10,071 people.
Newly-married women were at greatest risk of "large" weight gains.
Some gains may "pose a health risk", say the authors from Ohio State University.
The study followed people from 1986 to 2008 and monitored changes in body mass index (BMI) - a weight/height ratio measurement - and marital status.
The researchers compared the BMI of people who married or divorced with those who were already married or stayed single.
Even after adjusting the data for each person's health, education, employment, poverty and pregnancy - there was still an increased risk of weight gain associated with marriage and divorce.
In women, marriage increased the risk of a small increase in weight (up to a three point increase in BMI) by 33%. There was a 48% higher risk of large weight gains (more than a three point BMI increase).
Newly-divorced women had a 22% increased risk of small weight gain.
Men were 28% more likely to have small increases in weight after marriage and 21% after divorce.
The report concludes: "All marital transitions act as a weight shock, encouraging small weight gains regardless of the destination marital state."
Lead author, Dmitry Tumin, said: "To some extent, marriages for women promote weight gains that may be large enough to pose a health risk."
Helen Riley at the British Nutrition Foundation charity said: "These are significant changes in someone's life. It can change their living situation and the types of food they eat.
"But different people deal with it in different ways and it can be positive for some people."
Related Internet Links
The BBC is not responsible for the content of external sites.