Vitamin D mum test 'could protect babies from rickets'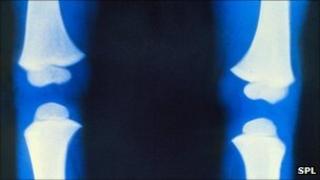 The NHS should consider checking pregnant women's vitamin D levels to protect babies from the "Victorian" bone disease rickets, an expert says.
A Journal of Medical Screening article suggests rickets was returning, with many women not getting enough vitamin D, which comes mainly from sunlight.
People with dark skin, and women who cover up for cultural or religious reasons, are at particular risk.
The Department of Health is reviewing the evidence on vitamin D screening.
The editorial was by Dr James Haddow, a US expert in pre-natal screening.
Breastfeeding mothers
His article described cases of seizures, heart failure and rickets in children whose mothers were vitamin D deficient.
Dr Haddow said it was time to look at screening pregnant women with a blood test, focusing initially on those most at risk.
"Any strategy aimed at avoiding symptomatic vitamin D deficiency in offspring would logically include assuring adequacy of maternal vitamin D during pregnancy.
"Attending to this aspect of maternal and child health has added significance for mothers who breastfeed."
A recent study in inner-city Birmingham found that almost one in two Asian women were vitamin D deficient.
The level was one in three in the wider Asian community, one in four in the black population and one in eight among Caucasians.
One of the authors, Dr Jonathan Berg, director of pathology at City Hospital, Birmingham, says some local GPs are already screening pregnant women from the Asian community, although there is no formal protocol.
The trust also offers a vitamin D blood-test for those who are not in at-risk groups, for £20. Dr Berg says a lot of people were having the check.
"Screening in selected populations is currently the way forward, but clearly it is very difficult for the NHS to test everyone. We are seeing a big increase in demand from the 'worried well'."
Free supplements
A consultant paediatrician at Ealing's hospital, Dr Colin Michie, says the increased use of high-factor sun-cream means a lot of women who are not in at-risk groups are also vitamin D deficient.
He says the idea of screening is interesting, but he argues that providing free vitamin D supplements for all pregnant women would be cheaper and easier.
He believes this would lead to healthier babies and would save the NHS money.
A spokesman for the Department of Health in England said: "All pregnant women are advised to take vitamin D supplements.
"Our priority is to ensure health professionals provide consistent advice and implement the current recommendations."
The department has asked the scientific advisory committee to review the evidence on vitamin D requirements for different population groups.