Single-sex wards in the NHS 'now the norm'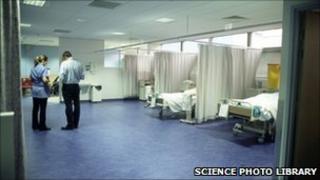 Further falls in the number of patients kept on mixed-sex wards has prompted ministers to suggest single-sex accommodation is now the norm in the NHS in England.
In July there were 1,126 breaches - a drop of 90% since December 2010.
More than two thirds of hospitals reported zero breaches with the north east becoming the first region to report no breaches at all.
Ministers said the NHS had done a "fantastic job".
A new system of fines was introduced in April in an attempt to eradicate what has been a long-running problem for the NHS.
Single-sex accommodation means patients share sleeping, bathroom and toilet facilities only with people of the same sex.
Hospitals have to pay £250 for each day a patient is kept in mixed-sex accommodation. Previously, the levels of fines varied considerably depending on the treatment and were inconsistently levied.
'Getting to grips'
The government's drive on mixed-sex accommodation follows attempts by the previous administration to tackle the issue.
Health Secretary Andrew Lansley said: "The NHS has done a fantastic job getting to grips with this. Single-sex accommodation is what people can now expect."
He added as part of the push all hospital refurbishments and new builds should look to ensure half of their beds are in single en-suite rooms.
The rules do allow wards to be segregated into distinct bays as long as they have separate facilities.
They apply to all trusts from acute hospitals to mental health units. Only intensive care and A&E are excused.