'Cot death risk' to small babies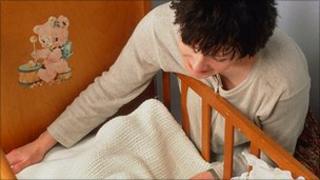 Parents of underweight babies must be given more information on reducing the risk of cot death, says a charity.
According to latest research, babies born weighing less than 2.5kg (5.5lb) are five times more likely to suffer cot death than those of normal weight.
The Foundation for the Study of Infant Deaths said 316 UK babies died in 2009 from sudden infant death.
Deaths have fallen by over 70% since parents began following risk reduction advice in the late 1980s.
But for the past few years the number of sudden infant deaths has hovered at around 300 a year.
FSID's chief executive, Francine Bates, said: "It's well known that parental smoking increases a baby's risk of cot death but babies who are born underweight are also an extremely vulnerable group, particularly during the first month of life, so it's vital that their parents are given advice on how to reduce their risk.
She added: "Low birthweight is not always the result of smoking during pregnancy and babies are born small for a variety of reasons.
"All mothers whose babies are born under 2.5kg should follow the recommendations to sleep their babies in a separate cot, in a room with them, for the first six months."
The latest figures, for England and Wales, are for 2009. The Office for National Statistics (ONS) found 279 unexplained infant deaths, a rate of 0.4 per 1,000 live births.
Risk factors identified in the report included the baby's sex (boys are more at risk), low birthweight, being a single parent and teenage pregnancy.
Cot death risks also varied geographically. For 2005-2009, the region with the highest number of sudden infant deaths was the North West.
The charity includes cot deaths in Scotland and Northern Ireland in its figures.