Scientists make schizophrenia breakthrough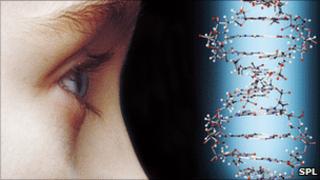 US scientists say they have "fundamentally transformed" the understanding of the genetics of schizophrenia.
A report in the journal Nature Genetics showed that "fresh mutations" in DNA are involved in at least half of schizophrenia cases, when there is no family history of the illness.
Researchers found mutations in 40 different genes.
They say their findings explain the high number of cases around the world.
Schizophrenia is quite common, it affects one in every 100 people during their lifetime.
Genes play a part in the illness. A tenth of people with schizophrenia also have a parent with the condition.
New mutations
However, researchers now say there is a genetic role even in cases which have not been inherited.
A person's DNA is not a perfect copy of their parents' genetic code - there are mutations when eggs and sperm are formed.
A team at Columbia University Medical Center analysed the genetic code of 225 people, some with and some without the condition.
They found mutations in 40 genes were linked to schizophrenia.
Lead researcher Dr Maria Karayiorgou said: "The fact that the mutations are all from different genes is particularly fascinating.
"It suggests that many more mutations than we suspected may contribute to schizophrenia. This is probably because of the complexity of the neural circuits that are affected by the disease; many genes are needed for their development and function."
Fellow researcher Professor Bin Xu said: "Identification of these damaging de novo mutations has fundamentally transformed our understanding of the genetic basis of schizophrenia."
It is thought that the complexity of the brain and the large number of genes involved provided a big target for mutation.
The report argues that this "provides a plausible explanation for both the high global incidence and the persistence of schizophrenia despite extremely variable environmental factors."
The charity Rethink Mental Illness said research on mental illnesses lagged behind that of other conditions.
Its chief executive, Paul Jenkins, said: "We welcome any research which helps develop a better insight of the causes of schizophrenia and ultimately brings us closer to finding new ways of preventing or treating the condition in the future."