Morning smoking has cancer risk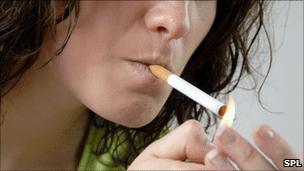 People who smoke soon after getting up in the morning are more likely to develop cancer than those who light up later in the day, say US researchers.
A study of 7,610 smokers, published in the journal Cancer, said the effect was independent of other smoking habits.
Smoking in the first 30 minutes after waking nearly doubled the, already high, risk of lung cancer.
Cancer Research UK suggested people who were quick to smoke may inhale more smoke into the lungs.
Scientists at the Penn State College of Medicine in the US looked at 4,776 smokers with lung cancer and 2,835 smokers without cancer.
They showed that patients who smoked in the first 30 minutes after waking up were 79% more likely to have developed cancer than those who waited at least an hour.
The researchers said that the "time to first cigarette" effect was present even after they statistically adjusted for other factors such as the number of cigarettes smoked in a day.
Another study in the same journal looked at 1,850 smokers, 1,055 of whom had head and neck cancers. It said people who smoked in the first half hour were 59% more likely to have developed a tumour than those who waited at least an hour.
The authors admit: "It is uncertain what explanation there is for the relationship".
Dr Joshua Muscar, lead researcher, said: "These smokers have higher levels of nicotine and possibly other tobacco toxins in their body, and they may be more addicted than smokers who refrain from smoking for a half hour or more."
Cancer Research UK's Professor Robert West said: "Smokers who light up soon after waking tend to smoke each cigarette more intensively.
"So the most likely explanation of this finding is that the sooner a smoker lights up, the more smoke is taken into the lungs, and the higher the level of exposure to cancer causing chemicals.
"This may help estimating levels of tobacco exposure more than just looking at the usual daily cigarette consumption."
Related Internet Links
The BBC is not responsible for the content of external sites.