Eating disorders delay pregnancy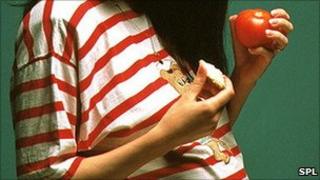 Women with a history of eating disorders may struggle to fall pregnant quickly, research suggests.
They are also more than twice as likely to need fertility treatment, a study of more than 11,000 UK mothers has found.
Pregnancy rates after six months were lower in women with anorexia or bulimia, but by a year they were the same as the general population.
Would-be mothers should seek help early for any symptoms of eating disorders, say researchers.
They may need extra support during and after pregnancy, a team from King's College London and University College London reported in BJOG: An International Journal of Obstetrics and Gynaecology.
The study found 39.5% of women with a history of bulimia or anorexia took longer than six months to conceive.
This compares with a quarter of women in the general population.
They were also more likely to need fertility treatment (6.2% of women with eating disorders, compared with 2.7% of the general population).
However, perhaps surprisingly, more pregnancies in the group of women who had had anorexia at some point were unplanned.
Lead researcher Dr Abigail Easter of the Institute of Psychiatry at King's College, said: "This research highlights that there are risks to fertility associated with eating disorders.
"However, the high rates of unplanned pregnancies in women with a history of anorexia suggest that women may be underestimating their chances of conceiving."
She said pregnancy could be a difficult time for women with eating disorders.
She added: "Women planning a pregnancy should ideally seek treatment for their eating disorder symptoms prior to conception, and health professionals should be aware of eating disorders when assessing fertility and providing treatment for this."
The research focussed on more than 11,000 women in the Bristol area taking part in a long-term study to track the health of mothers and their children.
The women were questioned about their past history of eating disorders, and their attitude towards their pregnancy, during the first half of their pregnancy.
Mary George of the eating disorders charity Beat said many people had no idea of the problems they could be causing in the future.
She said: "Eating disorders are very serious illnesses that are depriving the body of the nutrients that it needs.
"They can have long-term health consequences."