Pregnancy stroke surge in the US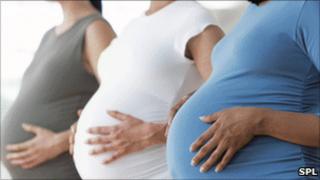 The numbers of US women having a stroke during pregnancy has surged, according to doctors.
The incidents increased from 4,085 in 1994-5 to 6,293 in 2006-7, the journal Stroke suggests.
It is thought other risk factors such as obesity, heart disease and diabetes may be to blame.
The Stroke Association said it was concerned by the sharp increase. Pregnancy is a known - if small - risk factor for stroke.
This study compared data from more than 1,000 hospitals in 1994-5 with 2006-7.
More common
During pregnancy itself, the proportion of women having a stroke increased by 47%, going from 0.15 to 0.22 strokes per 1000 deliveries.
In the 12 weeks after birth there was an increase from 0.12 to 0.22 strokes per 1000 deliveries, an 83% increase.
Dr Elena Kuklina, lead researcher from the US Centers for Disease Control and Prevention, said: "I am surprised at the magnitude of the increase, which is substantial. Our results indicate an urgent need to take a closer look."
The researchers suggest that two conditions - high blood pressure and heart disease - "explained almost all of the increase" in stroke after birth.
Dr Kuklina said: "Now more and more women entering pregnancy already have some type of risk factor for stroke, such as obesity, chronic hypertension, diabetes or congenital heart disease.
"Since pregnancy by itself is a risk factor, if you have one of these other stroke risk factors, it doubles the risk."
Many of these conditions are also increasing in the UK.
Dr Sharlin Ahmed, research liaison officer for The Stroke Association, said: "We're concerned that this study has found such a sharp increase in pregnancy-related stroke over the past few years.
"It is so important for woman wanting to start a family to understand the risks associated with pregnancy and to take steps to make sure they are as healthy as possible before they become pregnant."