Teens 'not getting enough fruit and vegetables'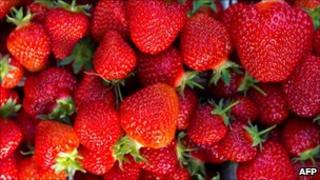 Just one in 13 teenage girls is getting their recommended five portions of fruit and vegetables a day, official government data shows.
But boys in the 11 to 18 age group did little better, with just one in eight eating the right amount, the National Diet and Nutrition Survey found.
Adults ate more on average, with a third getting their five-a-day.
The poll of more than 2,000 adults and children also raised concerns about other areas of diet.
Consumption of saturated fats for adults aged 19 to 64 was a tenth above recommended levels, while the majority of participants were found to be not getting enough oily fish.
But it was the diet of teenagers that raised the most concern.
The average consumption of fruit and vegetables for girls aged 11 to 18 was 2.7 portions with just 7% getting five-a-day. Nearly half of them are not getting enough iron in their diet either.
For boys, the average was 3.1 portions with just 13% getting five-a-day.
'Long way to go'
Chief Medical Officer Professor Dame Sally Davies said she was concerned about the figures for teenagers.
"Eating and being active can help prevent serious illnesses such as cancer and heart disease later in life," she added.
The survey drew on findings from interviews, diaries and blood and urine samples taken during 2008 and 2010. It marks the start of an ongoing programme of research which will inform government policy.
As such, direct comparisons with previous studies are difficult - although similar research was carried out in the 1990s which showed on most counts eating habits were improving slightly.
But Dr Alison Lennox, one of the nutrition experts involved in the research, said there was still a "long way to go".
However, she did highlight the progress being made with younger children who seemed to be eating fewer sweets, fizzy drinks and chocolate.
Health minister Paul Burstow said the government was rolling out a a new campaign to increase fruit and vegetable consumption.
He added: "We have not seen the improvements we should have."