Judge asked to let brain-damaged woman die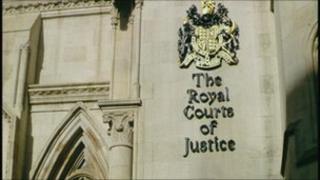 Who decides what is in the best interests of patients who are unable to speak for themselves?
In a landmark legal case which begins on Tuesday, a judge at the Court of Protection in London will be asked to decide whether a severely brain-damaged woman should be allowed to die.
There are legal restrictions on the reporting of the case. The woman, who is 51, is known only as M and is cared for somewhere in the north of England. She was severely brain-damaged in 2003 and is in what is known as a "minimally conscious state".
In a preliminary ruling on the case, Mr Justice Baker said the tragedy had had a "devastating impact", not only on M, but on her family including her mother, sister and partner.
Those family members had "come to the clear view that M would not wish to continue living in her current state and that it is not in her interests to do so."
"Showed awareness"
A crucial point for the family is that they believe M is suffering and experiences pain. Lawyers for the family are seeking a declaration that artificial nutrition and hydration can be withdrawn.
The case is likely to last two weeks, during which the judge will consider evidence from a number of medical and legal experts.
But the Official Solicitor, a lawyer appointed to represent M, strongly opposes the application. He will argue M could respond to touch, "showed awareness" and may be able to communicate using a switch.
Tony Bland
Mr Justice Baker described the case as "unique" raising "very important issues of principle".
In 1993, the House of Lords ruled that doctors need not keep someone alive if it was viewed that it was of no benefit to the patient. That case involved Tony Bland, a survivor of the Hillsborough football disaster, who was in a persistent vegetative state or PVS.
Patients in PVS have no awareness or consciousness of their surroundings.
I covered the Tony Bland case and remember a key argument in court was whether artificial nutrition and hydration - feeding tubes - could be regarded as medical treatment.
It was ruled they could, and the judges found that "invasive" medical treatment that conferred no benefit could be withdrawn.
Life support
Since 1993 a total of 43 PVS patients have died after a judge ordered that treatment could be withdrawn - each case being heard individually. On each occasion the patient's interests are represented by the Official Solicitor.
The key difference here is that M is not in a vegetative state but is minimally conscious. Although she is unable to talk, it will be for the court to establish whether she is able to communicate in any meaningful way.
There are thousands of patients around the country in a vegetative or minimally conscious state. They need round the clock attention in nursing and care homes and hospitals. I have spent a lot of time talking to families and carers and their dedication and commitment gets very little public recognition.
Doctors have always been able to end life in certain circumstances - such as switching off a life support machine. But this case will re-examine the boundaries of when it is deemed in someone's "best interests" to live or die, and who should make that decision.