Nudge not enough to change lifestyles - peers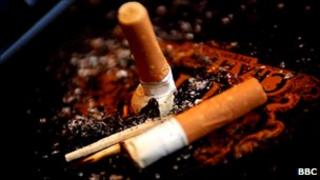 Plans to get people to adopt healthier lifestyles will not work unless the government is more prepared to use legislation, peers believe.
The House of Lords science and technology committee said ministers seemed to be mistaken in their use of what is known as the nudge theory.
Nudging people is about getting them to change their behaviour without necessarily banning activities.
But the group said that did not mean legislation should not be used at all.
Both the prime minister and Health Secretary Andrew Lansley are known to be admirers of the nudge theory.
It formed a key part of the government's public health strategy which was set out at the end of last year.
A unit has also been established in the Cabinet Office to push ahead with policies. Pilots to get people to quit smoking and increase organ donor registration have already been arranged.
'Important lever'
But the cross-party group of peers suggested there was confusion within government over what nudging actually involved, as they had been given different definitions by officials.
The peers also said the government's pursuit of non-regulatory steps had created an environment whereby nudge was being seen as something that did not require legislation.
But they said this was not always the case, recommending the government took steps to ensure traffic light labelling appears on food.
This contrasts with the government's tactics to date which have been more focused on using voluntary agreements.
For example, earlier this year ministers launched the "responsibility deal" which saw more than 170 companies put their names to a series of pledges covering physical activity, alcohol, health at work and food.
The committee is also calling for an independent chief social scientist to be appointed to provide government with "robust" advice.
Committee chairman Baroness Neuberger said: "There are all manner of things that the government want us to do - lose weight, give up smoking, use the car less, give blood - but how can they get us to do them?
"It won't be easy and this inquiry has shown that it certainly won't be achieved through using nudges, or any other sort of intervention, in isolation."
Professor Lindsey Davies, president of the UK Faculty of Public Health, said it was a "welcome and timely report".
"The public health profession has long argued that 'nudging' is but one aspect of a wide programme of interventions to help people make changes in their lives which promote good health and wellbeing."
A Cabinet Office spokesman said the recommendations would be considered.
But he added: "We are glad that they recognise that that the application of behavioural insights continues to be an important policy lever for government. These often complement other, more traditional policy tools."