Stem cell hope for heart patients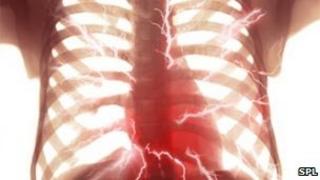 Scientists have raised hope that stem cell therapy could provide significant relief for patients disabled by untreatable chest pain.
Patients with severe angina had stem cells from their blood injected into their heart.
The therapy, carried out by Chicago's Northwestern University, halved the number of bouts of angina chest pain.
But UK experts have stressed the work is still at an early stage, and the potential longer benefit is unknown.
The procedure may also carry a risk: it is suspected of causing heart muscle damage in two patients, and others reported bone and chest pain.
The study, reported in the journal Circulation Research, was carried out on 167 patients with "refraction" angina, which does not respond to any standard treatment.
They were given high or low dose stem cell infusions, or a dummy injection.
A year on, patients in the low-dose group had an average of 6.3 episodes of pain a week, compared to 11 a week for those given the placebo jab.
The length of time they were able to tolerate exercise also improved by 139 seconds after six months, compared to an improvement of 69 seconds for the placebo group.
There was no significant benefit from receiving a higher dose of stem cells.
Lead researcher Professor Douglas Losordo said: "The net difference in exercise tolerance is highly clinically significant, particularly in a patient population that is severely limited by symptoms.
"It translates as going from being able to watch television to being able to walk at a normal pace or going from being able to walk slowly to being able to ride a bike."
Bone marrow cells
The treatment used bone marrow stem cells called CD34+ cells which circulate in the blood.
Previous research has suggested these cells can create new blood vessels in diseased heart muscle.
The researchers used a growth-stimulated drug to boost their numbers before harvesting them.
The cells were then injected into areas of heart muscle that had been starved of blood.
The Chicago team plans to further develop the technique in more advanced Phase III trials later this year.
Professor Jeremy Pearson, associate medical director at the British Heart Foundation, said the study showed promise, but warned it was still uncertain whether the therapy would produce lasting benefit.
He said: "The mechanisms involved are still poorly understood.
"Until these uncertainties are resolved, it remains unclear how successful this kind of treatment will prove to be."