Clue to pain of sunburn discovered by UK researchers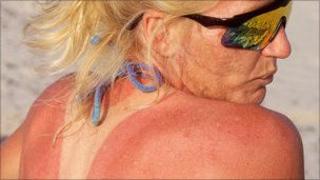 A chemical in the body that triggers pain from sunburn has been pinpointed by UK experts in a discovery that could lead to new painkillers.
Scientists hope one day to be able to knock out the substance with drugs, helping people who suffer from chronic pain.
Tests on volunteers showed CXCL5, as it is called, is produced when skin is burnt by UV rays from the sun.
The research is published in the journal Science Translational Medicine.
Exposure to ultraviolet light from sunlight causes premature skin ageing, cancer and other skin changes.
UVB affects the outer layer of skin, and is the main agent responsible for sunburn.
In the study, scientists at King's College London exposed small patches of the 10 volunteers' skin to UVB.
Areas of sunburn were produced which became increasingly tender over a few days.
The scientists took small samples of sunburnt skin and screened them for hundreds of known pain molecules. They discovered unusually high levels of CXCL5.
Study leader Professor Steve McMahon from the Wolfson Centre for Age-Related Diseases at King's College said: "These findings have shown for the first time the important role of this particular molecule in controlling pain from exposure to UVB irradiation.
"But this study isn't just about sunburn - we hope that we have identified a potential target which can be utilised to understand more about pain in other inflammatory conditions like arthritis and cystitis.
"I'm excited about where these findings could take us in terms of eventually developing a new type of analgesic for people who suffer from chronic pain."
Dr David Bennett, a neurologist at King's College Hospital, added: "We intend to extend this approach to other types of pain and in particular to study patients suffering from chronic pain with the hope that this will speed up the process of turning science into effective treatments for patients."