Men wanted as stem cell donors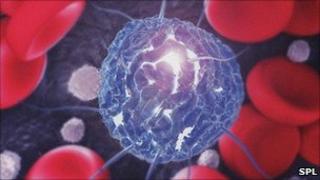 Young men between the ages of 18 and 30 are being urged to donate stem cells to save the lives of people with blood cancers like leukaemia.
More than half of adults surveyed said they would consider donating, but many are confused about what it entails, said the charity Anthony Nolan.
Most donations are now made through a process similar to giving blood.
The charity wants to get more than 10,000 young men to join its donor register.
The register is used to match donors willing to donate stem cells or bone marrow to people who need lifesaving transplants.
To join, potential donors need to complete a medical questionnaire and give a saliva sample.
Professor Charles Craddock, Anthony Nolan's medical director and a consultant at the Queen Elizabeth Hospital in Birmingham, said: "When the transplant team look for a matching donor for their patient, they ideally want someone fit and healthy, and as men are usually bigger we are likely to get more stem cells from them.
"There are a lot of misunderstandings about what it means to donate blood stem cells.
"But I'd urge young people, particularly young men, to find out more about the process - it's very easy to join the register and if you are asked to donate, you could save someone's life."
The survey, conducted for Anthony Nolan, questioned 2,049 members of the public online. It found most people (54%) would consider joining the stem cell register.
Of those who would not join, or were unsure, around a third (37%) said they did not know enough about donating stem cells.