'Floss for fertility', women advised
By Michelle Roberts
Health reporter, BBC News, in Stockholm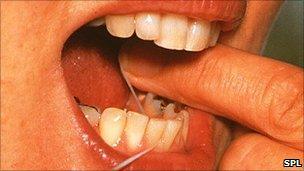 Women who want the best chance of having a baby should make sure they floss their teeth regularly, say doctors.
Poor oral health is as bad for fertility as obesity - delaying conception by about two months.
Experts at a fertility meeting in Sweden heard how women with gum disease took over seven months to conceive, compared to the usual five months.
They believe the underlying cause is inflammation.
Unchecked, this can set off a chain of reactions capable of damaging the body's normal workings.
Peridontal disease has already been linked with heart disease, type 2 diabetes and miscarriage, plus poor sperm quality in men.
In this latest study from Australia, which involved over 3,500 women, those with gum disease had raised blood levels of markers for inflammation.
Lead researcher Professor Roger Hart, of the University of Western Australia, said: "Until now, there have been no published studies that investigate whether gum disease can affect a woman's chance of conceiving, so this is the first report to suggest that gum disease might be one of several factors that could be modified to improve the chances of a pregnancy."
He said women trying for a baby should now add a trip to their dentist to the check list along with stopping smoking and drinking, maintaining a healthy weight and taking folic acid supplements.
UK fertility expert Dr Allan Pacey said: "It's common sense advice really to make sure you are in a healthy condition if you want to try for a baby."
Around 10% of the population is believed to have severe periodontal disease.
Related Internet Links
The BBC is not responsible for the content of external sites.