'Quit smoking' drug linked to heart risk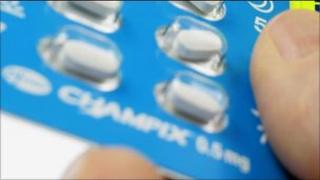 A drug used by smokers to help them quit increases the risk of heart attacks and other serious cardiovascular problems, research says.
An international team reviewed studies involving more than 8,000 smokers, and found more of those taking Champix fell ill than those on dummy drugs.
The review, in the Canadian Medical Association Journal, suggests smokers should not use the drug to stop.
But makers Pfizer say it is an "important option" to help people quit.
And heart experts stress smoking itself is a major heart disease risk factor.
Champix (varenicline) accounted for over 955,000 prescriptions in England last year.
It works by cutting cravings, but in the past it has been linked to depression and suicidal thoughts.
'Benefits versus risks'
This review, carried out by researchers at Wake Forest Baptist Medical Center in North Carolina, Johns Hopkins University School of Medicine, Maryland, and the UK's University of East Anglia, looked at 14 studies into cardiovascular problems in people taking the drug.
All bar one excluded people with a history of heart disease, and lasted for between seven weeks and a year. The majority of those involved were men aged under 45.
In all, of the 4,908 people taking Champix (known as Chantix in the US), 52 experienced serious cardiovascular problems such as heart attack or arrhythmia (abnormal heart rhythm) compared with 27 of the 3,308 taking dummy drugs.
The US Food and Drug Administration has already placed a warning on the drug's information leaflet about the risk of suicidal thoughts and it recently added a second about additional cardiovascular risk to people who already have heart disease after looking at one study of 700 people.
Writing in the journal, the researchers said: "Clinicians should carefully balance the risk of serious cardiovascular events associated with varenicline use against the known benefits of the drug on smoking cessation."
Dr Yoon Loke of the University of East Anglia, who worked on the review, agreed the numbers involved were small, but said that was likely to be because the studies looked at healthy people - and that the risk could be greater for smokers who already had heart problems.
He added: "There are lots of other options to help people stop smoking that don't involve drugs."
'Talk to your doctor'
Doireann Maddock, a senior cardiac nurse at the British Heart Foundation, said: "Smoking is one of the major risk factors for heart disease.
"In fact, smokers double their risk of a heart attack compared with people who have never smoked, and quitting smoking is the single most important thing you can do to improve your heart health."
She said the study's finding was "a concern", but said further research was needed before firm conclusions could be drawn.
"People using varenicline to help them to stop smoking should not stop using it because of this study alone but should chat to their GP about it and the options available."
A spokesman for Pfizer, which makes the drug, said the company "disagreed with the interpretation of the data" in the study, which it said had "limitations".
He added: "Champix is an important treatment option for smokers who want to quit. Patients should consult with their healthcare providers to determine what medications are right for them."
The Medicines Healthcare products Regulatory Agency (MHRA), which monitors the safety of drugs used in the UK, says it has received 306 reports of adverse drug reactions linked to cardiac problems since the drug was launched in 2006 - with deaths in 17 cases.
However, it stressed that such reports did not prove a link to the drug, and other underlying factors could be involved.