Doctors back driver smoking ban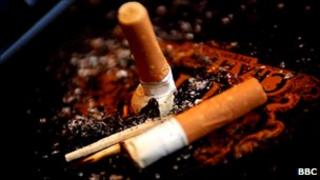 Tougher legislation is needed to curb unhealthy behaviour, doctors say.
Delegates at the British Medical Association's annual conference called for a ban on smoking in cars, and more action on alcohol pricing and promotion, such as an advertising ban.
The union accused ministers of being too close to industry by focusing excessively on voluntary agreements.
The government said there had to be a balance between legislation and partnership on improving public health.
During a series of debates about public health at the conference in Cardiff, doctors criticised the approach of government, saying ministers were "undermining" public health.
In March the Department of Health in England announced its responsibility deal with industry when more than 170 companies put their names to a series of pledges on physical activity, alcohol, health at work and food.
A total of 19 core pledges were agreed, including introducing calorie counts on menus, increasing labelling on drinks and offering more promotions on fresh fruit and vegetables.
But a host of health organisations, including the BMA, refused to back the initiative, arguing there was a lack of clarity over how industry would be held to account.
At the time Alcohol Concern went as far as to say it was the "worst possible deal".
Dr Abi Smith, a junior doctor from Bristol, said the initiative did not go far enough.
"The government is placing private industry and profit over public health. This is a clear undermining of the voice of public health."
London-based GP Dr John Chisholm agreed. He said: "Clearly industry should be consulted and engaged with. However, I have grave concerns that the government is too averse to interventions and sanctions when appropriate."
Medics went on to vote for the BMA to push for:
A ban on smoking in cars, saying that research has shown that toxicity from smoking in cars is 27 times higher than it is in the home and 20 times higher than in the pub. Delegates said it would improve road safety as well.
Forcing all firms involved in tobacco products to publish all payments to politicians and political parties.
A ban on alcohol advertising, restricting licensing hours and introducing a minimum price for alcohol - something the BMA has already called for and a move which is being looked at in Scotland.
"Unacceptable" use of trans-fats - often found in biscuits, cakes and fast food - to be banned, although the BMA's science experts were asked to look at the issue before it became official policy as some trans-fats are naturally occurring.
But not all delegates agreed with the measures. Medical student Charlie Bell said: "We are the BMA not the BNA - the British Nannying Association."
The Department of Health rejected suggestions it was too weak, pointing out it was using legislation to ban tobacco displays in shops and was considering forcing cigarettes to be sold in plain packets.
A Department of Health spokesman added: "This government believes that if we are to find new ways of supporting people to change their behaviour we need to work in a broad partnership with public health, voluntary and commercial organisations.
"Government alone cannot improve public health. Everyone has a role to play in improving the public's health."
Miranda Watson, from the British Lung Foundation, said: "Doctors are on the front-line when it comes to dealing with the impact of passive smoking on children.
"We're thrilled the BMA is supporting the BLF's campaign to end smoking in cars carrying children. With doctors backing our campaign, the Government can't afford to stall."