Doctors reject revised NHS plans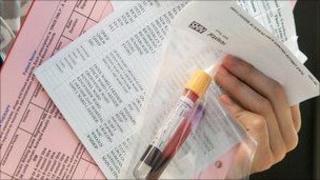 Doctors have rejected the government's revised NHS plans, urging their union to take a tougher stance.
Delegates at the annual British Medical Association conference voted in favour of calling for the Health and Social Care Bill to be withdrawn by 59%.
The union initially welcomed concessions by ministers this month on competition and patient choice.
But doctors at the Cardiff meeting said it was time to keep pushing the government "further and harder".
The plans involve opening up the health service to greater competition and giving GPs a lead role in spending the NHS budget.
Amid mounting criticisms the government put the changes on hold in April. Two weeks ago ministers attempted to appease opponents by watering down certain aspects of the plans.
But delegates at the BMA said they were still not satisfied - despite pleas by BMA leader Dr Hamish Meldrum not to vote in favour of a series of critical motions.
One of those was calling for the bill underpinning the changes to be withdrawn.
Dr Meldrum said he would continue to ask for more.
But he added: "If you push too far you may lose some of the ground you have taken."
But delegates were not convinced with 59% voting in favour of the motion.
Dr Jacqueline Applebee, a GP from London, said the overhaul would result in one of the "biggest ever social injustices" as it would lead to charges for services and backdoor privatisation.
"We have a duty to past, present and future generations," she said.
Paddy Glackin, who is also based in London, added: "This is a slippery government that we cannot give any wriggle room to. This is not the time to back off, this is the time to push further and harder."
Vote 'disappointing'
It is the second time the BMA has called for the bill to be withdrawn. In an emergency meeting in March doctors voted in favour of it being withdrawn, but their attitude softened when the concessions were published, with the union's leaders indicating they were willing to work with ministers to get the bill right.
That stance will now harden following the conference vote. In fact, Dr Meldrum is likely to convey the message on Tuesday afternoon when he gives evidence to the House of Common's bill committee about the reform programme.
A Department of Health spokesman said: "This vote is disappointing because only a few weeks ago the doctors' union said there was much in our response to the listening exercise that addressed their concerns, and that many of the principles outlined reflected changes they had called for.
"The bill has changed substantially since the BMA first voted to oppose government policy. Our plans have been greatly strengthened in order to improve care for patients and safeguard the future of the NHS."