The university course giving aid to aid workers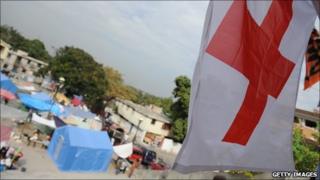 For the thousands of Western aid workers who descended on Haiti after 2010's devastating earthquake, rebuilding the tattered communities was their number-one priority.
And, for the many that remain there more than a year on, it remains a mission very much in progress.
Yet aside from the emotional toll on the families of victims, aid workers are increasingly being reminded to look out for their own needs too.
A new course run by the University of East London is aiming to help workers understand and deal with the long-lasting psychological effects working in the field can have.
"[It] comes from a fundamental belief that it's through our own self-awareness of how to look after ourselves that we are better informed about how to look after others," says course leader Dr Sarah Davidson MBE on the BBC World Service's Health Check programme.
"You get caught up in the struggle, the demand and the need out there.
"People adopt difficult habits, long working hours and burn out. It's as important to look after oneself as it is to look after the people you are responding to."
Dr Davidson is the former vice chairman of the British Red Cross, and currently its psychosocial advisor. Her experience in Haiti and other stricken areas has shown her the lengths aid workers go to try to help - only to find themselves unable to cope.
"People often go into the humanitarian sector wishing to make a difference," she says.
"There's an internal, 'How much difference can I make today?' that needs to be reigned back to what is manageable."
The course consists largely of distance-learning, allowing aid workers recuperating away from troubled areas to communicate with those in the midst of a crisis.
"The distance-learning part of the course enables people to be on it before they're deployed, whilst they're deployed and when they come back," Dr Davidson says.
"So that means people can share their own personal top tips about what works for them, as well as their own ideas of perhaps before they went out into the field how they had thought they would be working all hours and doing all good deeds.
"The reality is a lot of bureaucracy and a lot of time filling in papers and having to do really good assessments."
Incredible suffering
It is a method that helps both parties. Workers returning home can find "normal" life a difficult adjustment, while those away find interaction with people outside the area invaluable.
Another problem, Dr Davidson says, is in the face of incredible suffering, aid workers feel unable to discuss their comparatively minor stresses and worries.
"How do you put it into words?
"How do you describe your own pain, your own anguish at seeing what's around you when it's on such a scale and obviously has so much significant repercussion."
It is a stress Amy Braithwaite, a student on the course, has seen first hand. She has travelled the world with various non-governmental organisations, but Haiti was her most testing experience.
"It's a different kind of stress that the aid workers have.
"You could see the strain, you could visibly see people change over time, just from stress and inability to deal with what we were experiencing.
"My motivation for the course has been recognising the really under-served need that there is."
She says people react to the pressures in varied ways.
"People can drink a lot, people can smoke more.
"You're not exercising, you're not eating properly."
The course was able to help Ms Braithwaite identify when such things were happening to her and how to deal with it in a way that allowed her to best help the people she was there for.
"I was able to have the capacity and the awareness to recognise the impact that the stress was having on me. That was a saving grace in a way - you're able to step back and say, 'OK, I can see what's happening here.'"
Concerns about aid-worker psychology have been documented for some time.
In 1991, the International Federation of Red Cross and Red Crescent Societies established psychological support programmes, and other organisations, such as the charities Oxfam and Save the Children, have put work into studying the effects disaster aid can have on people.
This course, the university says, is all about wading through that information and providing concrete advice, expertise and help for aid workers like Ms Braithwaite.
"There's so many people that go from disaster to disaster," she says.
"It catches up with you, it's impossible to think that you are not going to be affected by the things that you're seeing, smelling, hearing… everything. It accumulates and it can really affect your health."