Organ donor challenge over-ruled at BMA conference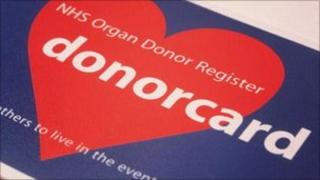 Doctors have reiterated their support for overhauling the organ donation system.
The British Medical Association has been campaigning for presumed consent - where all people are assumed to be willing to donate organs unless they opt out - since 1999.
But some medics at the union's annual conference challenged the stance on grounds it could damage patient trust.
Delegates rejected the challenge, arguing it would save lives.
No part of the UK has introduced a system of presumed consent yet, although Wales has said it intends to.
Those in favour believe it would help boost UK donation rates, which, despite recent improvements, still lag behind many other countries.
More than 3,700 donations took place last year - a 5% rise on the previous year - but there are still about 8,000 people on the waiting list.
Over the last three years, the NHS has invested in specialist nurses and transplant co-ordinators to identify potential donors and allow for approaches to families when death becomes likely.
Dr Sharon Blackford, a dermatologist from Swansea, who proposed the motion challenging the BMA's support for presumed consent, said: "If we move to presumed consent in could damage trust in doctors. If someone is ill in intensive care, families may feel doctors just want to harvest the organs.
"It also goes against the whole idea of the moment - putting patients in charge. People may start thinking about it differently and it could turn people off."
Dr Blackford cited the experience of Spain, where organ donation hardly changed following the introduction of presumed consent in 1979.
But others argued presumed consent would be beneficial.
Laura Turkenburg, a medical student from Durham, cited research which showed three people a day die waiting for an organ transplant.
"We have a significant problem in this country. That means the system has to change."
Former Lib Dem MP Dr Evan Harris, who originally proposed the motion in favour of presumed consent 12 years ago, said: "It [presumed consent] does work. It saves lives."
Under the BMA's suggestion - dubbed soft presumed consent - families would still be able to object to organ donation even if their relative had not opted out.
A spokesperson for NHS Blood and Transplant (NHSBT) said:
"We welcome debate that raises the value and importance of organ donation as a way of encouraging discussion about this important subject.
"NHSBT is neither for nor against a change to presumed consent legislation and will work within whatever legislative framework is introduced in any of the four health administrations in the United Kingdom.
"Next week is Transplant Week (4 - 10 July) which focuses on the wait patients experience when on the organ waiting list. With three people dying every day in the UK whilst waiting for an organ transplant, we urge people to join the NHS Organ Donor Register and discuss their wishes with their family."