Organ donor register passes 18m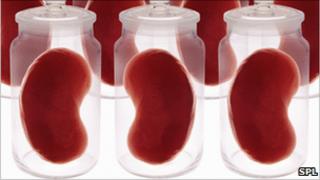 The number of people registered as organ donors in the UK has reached "staggering" levels, according to NHS Blood and Transplant.
A record 18 million - nearly one out of every three - people now say they are willing to donate their organs.
But the organisation said even more people needed to register.
It added Black and Asian people had to wait three times longer for a transplant, because of a shortage of donors in those communities.
Sally Johnson, director of organ donation and transplantation, said the number of people on the register represented "a fantastic achievement".
But she added: "Getting people to sign up to the register is only half the battle.
"In order to see that their wishes are carried out in the event of their deaths, it is essential that those who want to become donors discuss donation with family and friends."
People in Scotland are the most likely to donate, 37% are on the register.
In 2010, more than 1,000 people donated their organs, and 2,700 organs were transplanted, across the UK.
However, 10,000 people are still on a waiting list for transplants.