Hospital wait breaches 'going up'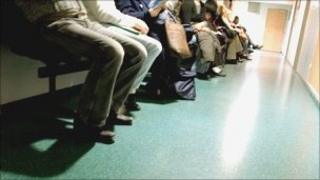 The number of areas in breach of hospital waiting time limits in England has more than doubled in the past year, the BBC has established.
Official figures for April showed 51 trusts - a third - missed the target for 90% of patients to be seen within 18 weeks. A year ago the figure was 25.
But the NHS overall is still meeting the 90% target because of the number of hospitals doing better than required.
The data comes just a week after David Cameron promised to keep waiting times down.
The prime minister made the pledge as one of five guarantees to try to allay fears over the government's shake-up of the health service.
Guarantee
The target for hospitals to see 90% of patients within 18 weeks was to reflect the fact that there needed to be leeway in the system because some people might choose to wait longer if it suited their circumstances or was clinically necessary.
Nationally, 90.5% of inpatients - those that are kept in hospital for operations such as knee and hip replacements - were seen within this time in April.
But that masks the growing number of areas that are struggling with the limit.
The most acute problems are being experienced in London, the South East, south coast and North West.
In the worst performing area - Hastings and Rother - more than a quarter of patients were waiting longer than 18 weeks.
The problem has been put down to the squeeze in budgets that the NHS has seen in the past year.
It also comes after the government relaxed the rules governing waiting times. Under Labour it was an official target, performance managed by the Department of Health.
However, soon after gaining power the coalition government announced it would no longer have it as a target, although the NHS was told it was still expected to meet it because it was enshrined in the NHS constitution as a patient right.
Professor John Appleby, of the King's Fund health think tank, predicted the problem was probably going to get worse.
"I would guess it will keep going up. In the end, the government will probably have to start getting tougher if it wants to keep to the 18 weeks. It surprises me more patients aren't challenging this now it is a right."
Katherine Murphy, director of the Patients Association, added: "We've continued to receive calls to our helpline every day from worried patients who cannot understand why 18 weeks is not being adhered to.
"This is more evidence of financial need overtaking clinical necessity."
But a Department of Health spokeswoman pointed out that nationally the limit was still being kept to.
She added: "Our modernisation plans will drive improvements in quality and outcomes across the country.
"Greater transparency will show people the waiting times for individual hospitals and allow patients to vote with their feet - it will be in hospitals' best interests to keep waiting times low."