Young people urged to donate blood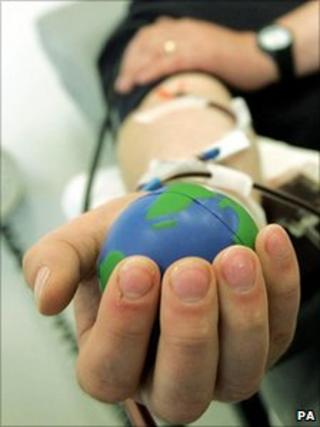 First they prick your thumb. A short, sharp shock, over in a millisecond, and a dark, fat blob of blood appears.
Then if you pass all the criteria you're on your way to donating almost a pint of blood.
The donation process - from filling in a health check form to having a restorative drink and snack - takes less than an hour, is relatively pain free (depending on who you ask), and blood donations do save lives.
The National Blood Service needs to collect 7,000 units of blood a day, and has mobile donation sessions, setting up in places such as church halls and community centres, as well as some permanent clinics.
But despite efforts to make it as hassle-free as possible, the number of donors aged between 17 and 34 has dropped in the past decade.
According to its survey to mark World Blood Day and the UK's National Blood Week, there are 60,000 fewer young donors than an decade ago - 237,520 in 2011 compared with 297,539 in 2001.
The service, which covers England and North Wales, fears "a generation gap" and is turning to social media and celebrity support to boost its focus on young people.
One in 10 of the people aged 18-24 surveyed said they were too busy to donate, even though nearly three-quarters thought everyone who could donate should do so, and 93% of current blood donors donate during the working week.
Sitting in London's West End Donation Centre on a Monday afternoon is 37-year-old Rob, who preferred not to give his surname. He started donating as a university student, spurred on by his father receiving a badge for his 100th donation.
"And I was an arts student, so I was free in the afternoon," he jokes, "and there were the free biscuits. I probably didn't eat for a week after that."
Unlimited biscuits, crisps and drink are a constant at sessions, but other parts of the service have been updated. Online booking means donors no longer have to turn up and just hope they are seen in a reasonable time.
It's that "make a date to donate" option that the blood service hopes will encourage all potential donors to roll up their sleeves and lie back with a needle in the crook of their elbow.
The survey, of 1,700 non-donors and 1,000 donors, found that 37% of young non-donors had never given blood because they were scared of needles.
For Rob, who has an interest in horror films, the procedure does not bother him. "The nurses are brilliant at distraction techniques as well. They can talk nonsense about Lady Gaga if you want - or politics or anything else if you're not interested in Lady Gaga - to take your mind off it."
And how would he allay any fears young people have about the pain involved? "You probably end up in more pain after a Saturday night. And if you fall over it will definitely hurt more than making a blood donation."
On the blood service website, there's a video explaining the process: "She inserts a new sterile needle into my arm and secures it with tape. I hardly felt a thing! I watched as I was curious but you don't have to look if you don't want to," says the animated character cheerfully.
David Rutter, a 21-year-old who has been donating since he was 18, has just dropped in while visiting London on holiday.
"I was a bit apprehensive about having the needle put in, and it's not exactly enjoyable. There was a nice guy next to me who lied to me and said it wouldn't hurt," he recalls of his first donation.
But he recovered from that deception and has made about seven donations. "There's not a good reason not to go, as the benefits outweigh the personal fears."
Ignorance about the donation process deterred about 17% of young people, the survey found, and 14% said it was because they did not know where to go to donate.
Jessie Holder, a 27-year-old youth worker, eating a biscuit in the post-donation area, says she started donating at school, aged 18. "There was a donation session set up in the school hall and a load of us egged each other on."
But now she has a more personal reason. "My friend is in hospital and needs a transfusion, so she said, 'Please, please, go out and do it'. I never realised that [having a transfusion] would be a reason to stop donating."
People who have received a transfusion since 1980 were barred from donating in 2004 as a precautionary measure against the possible risk of variant Creutzfeldt-Jakob Disease (vCJD) being transmitted by blood and blood products.
Like the other donors at the clinic, Ms Holder dismisses the excuses others use for not donating: "It's not really a hassle, it won't hurt and it's not scary. And really there's no reason not to do it."
And what about that needle entering her vein? "I always look, I'm not squeamish, although when I started coming again I did look at the needle and think, 'That's a lot bigger than I remember'."