Surviving childhood in Sierra Leone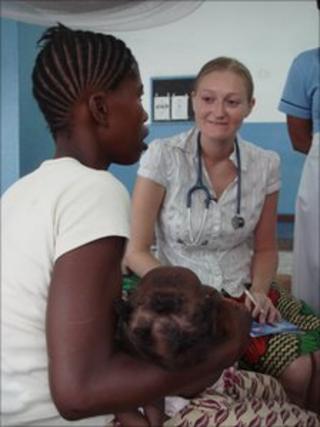 Dr Shona Johnston was on her morning ward round.
Originally from Shetland, her permanent job is working as a paediatrician at a hospital in Berkshire. But she has left behind her husband and home to work for a year at a children's hospital in Freetown, Sierra Leone. The placement was organised by the charity VSO - Voluntary Service Overseas.
Dr Johnston told me the hospital is always short-staffed and desperately needs more skilled workers. She is training two medical students, which means leaving behind a permanent legacy at the end of her stint.
On a related topic, VSO tells me it is deeply worried about plans announced on Friday to change the visa rules in Britain. About 200 doctors from the developing world are trained in Britain annually - each staying two years. The plan is to cut the duration of visas for temporary workers to one year.
VSO and the Royal College of Physicians are calling for an exemption for health workers coming to Britain so that they can complete their medical training.
Dr Johnston was working in the feeding centre, which treats children with severe malnutrition.
A third of youngsters in Sierra Leone are underweight and another third have stunted growth. Poverty plays a big part, but Dr Johnston said there were other reasons.
"Lack of money for food is crucial but lack of education about what to feed babies is another factor," she said.
Sierra Leone clearly has a multitude of social issues to address such as family planning and reproductive health. I met several young women who were married in their mid-teens, had left education and were either pregnant or already mothers. Many couples had six or more children and were living in extreme poverty.
So what progress has been made in reducing child mortality in Sierra Leone?
In 1990, according to Unicef, one in four children here died before the age of five (285 per 1,000). But in 2008, a demographic health survey suggested that figure had fallen to one in seven (140 per 1,000).
That is progress, but it still means that Sierra Leone is not on target to meet the UN Millennium Development Goal of reducing child mortality by two-thirds by 2015. Most developing countries are off-target.
Distressing
This brings me back to immunisation. It is no panacea: there is no vaccine against poverty or indeed against some of the major killers like malaria. But there are vaccines against the pathogens that cause severe forms of pneumonia and diarrhoea.
"Pneumonia and diarrhoea account for 40% of child deaths in Sierra Leone," said Dr Johnston. "It is very distressing watching children die every day from vaccine-preventable infections."
My final stop in Freetown was to see Dr Samuel Kargbo who I first met on my visit in 2008. Back then he ran a maternity hospital but is now head of reproductive health in Sierra Leone.
A passionate advocate of immunisation, he stayed in Sierra Leone throughout the war. I asked him what message he had for those gathering at the GAVI vaccine conference in London, where donor nations will be asked to pledge more money for immunisation.
"It is a matter of conscience," he said. "If the vaccines exist then they should be made available. During the war I had to cross rebel lines in order to immunise children. Now we are a country at peace, surely we owe it to the children to give them the vaccines they need."
But these are difficult times financially, and donor nations have to ensure every penny they commit to aid is well-spent. He agreed, but made this point: "It is simple economics. Immunisation is cheaper than treating the disease. It means we have less children in hospital, less pressure on beds, on staff and need fewer drugs."
The cost-effectiveness of immunisation is likely to be one of many arguments put forward at the conference on Monday. I'll be reporting from the meeting throughout the day.