Immunisation in Sierra Leone: Day One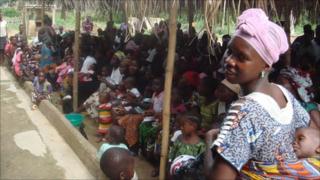 Sierra Leone is a beautiful country with an ugly record on child health.
But could things be changing? When I visited in 2008 it had the world's highest rate of child deaths. One in four children never made it to their fifth birthday. I've been back to see how things are changing.
I'll be posting on this for the next few days in the run-up to a conference in London on Monday where richer nations are being asked to pledge an extra £2.3bn for immunisation in the developing world.
The first decision you need to make on arriving at Lungi airport is how to get to the capital Freetown which lies across a large stretch of water. There is a helicopter, but I remember avoiding that last time because of a crash which killed 19 people.
With my cameraman Tony and a small group of journalists we took the Pelican Water Taxi. This first meant staggering along a wooden pontoon which rose and fell alarmingly in the swell, and then being hauled into a motor boat.
Blow-out
We arrived late at night and left Freetown early the next morning. Then there was the small matter of a 170 mile journey to the first of several health clinics in the district of Bo.
I was expecting the roads to be awful - last time I was here they were nearly all dirt tracks. But there's been a huge road-building programme. Road safety is a big issue in Africa and our driver told us that there were more serious crashes now than before, because cars and lorries could go faster.
One of the cars with us had a blow-out but fortunately no-one was injured.
Pneumonia vaccine
This was Mother and Child week in Sierra Leone. The first health centre we reached was packed. It was in a rural village and many children were getting treatment for pneumonia and diarrhoea, the two biggest killers of under-fives in the developing world.
In January, Sierra Leone began immunising infants against pneumoccocal disease, the leading cause of severe pneumonia. The vaccine has the potential to save huge numbers of lives.
One mother we met, Mariatu Musa, was there to have her daughter immunised. Tenneh was born on Valentine's Day. "I just want her to be healthy", she told me. "That's why I'm breastfeeding her too."
Diamond diggers
That last comment was music to the ears of the Unicef workers with us. Breast milk helps reduce infections in babies and meets all their nutritional needs.
Like many of the women we met, Mariatu's husband is a diamond digger - not often a profitable occupation.
One woman said her husband had been sifting for diamonds in the river for three years, and found nothing.
Many diamond miners are being encouraged to switch to agriculture. In the fertile soil of Sierra Leone, at least you know what you dig up will be useful.
Tomorrow: free healthcare, diarrhoea and more.