'Chemical cosh' dementia drug prescriptions concern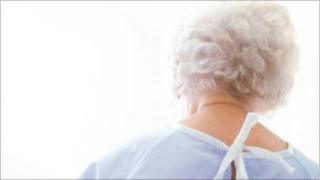 More than 50 health and social care organisations are calling for fresh action to cut the prescription of "chemical cosh" drugs.
Around 180,000 people with dementia are thought to be prescribed antipsychotic drugs in the UK.
But 80% of those prescriptions are said by critics to be inappropriate.
Long-term use of the drugs can make dementia symptoms worse, reduce the ability to talk and walk and increase the risk of stroke and even death.
The Dementia Action Alliance - which includes the Alzheimer's Society, Age UK and the Department of Health - want all prescriptions for antipsychotics to be reviewed by the end of March 2012.
To help patients and carers, the Alliance has published a booklet giving information and advice about how to make sure antipsychotics are not prescribed inappropriately.
Powerful sedative
Antipsychotics have a powerful sedative effect and are often used when dementia patients become aggressive, agitated or distressed.
They are most commonly given to dementia sufferers in care homes and hospitals.
Guidelines say they should only be used as a last resort and over a short period of time, but the evidence suggests that in some cases they are being prescribed for years.
A study published in January 2009 showed the medication nearly doubled the risk of death for many dementia patients when taken over a prolonged period.
Chemical cosh
Jeremy Hughes, Chief Executive of the Alzheimer's Society, said it was unacceptable that people with dementia were having their health and quality of life put at risk because of antipsychotics:
"It is essential we bring an end to this chemical cosh and empower people with dementia and carers with the information they need to ensure they are not prescribed these drugs inappropriately. This call to action can do just that.
"It's not just about reducing antipsychotics but also about improving quality care. This means developing alternative treatments and finding better ways to manage pain and other medical conditions."
Following an independent report for the government in November 2009 that found the drugs killed around 1,800 patients a year, ministers announced plans to cut prescribing rates by two-thirds within three years.
But new figures from the NHS Information Centre suggest prescription may have dropped by less than 20% over the past two years.
When in opposition, Paul Burstow, now Care Services Minister, campaigned to cut the use of the 'chemical cosh'.
"It is unacceptable that 1,800 people with dementia die prematurely every year as a result of antipsychotic medication. That is why I'm backing this campaign," he said.
"Reducing the use of antipsychotic medication is one of the Coalition Government's four key priorities for dementia. With the right support, people can live well with dementia and continue to do the things they enjoy for years after diagnosis."
Alternative therapies
The campaign is also being supported by Dr Clare Gerada, Chair of Royal College of General Practitioners.
"Dealing with very agitated or aggressive patients can be distressing, and it can be difficult knowing what to do for the best of the patient, but antipsychotics should in most cases only be used as a last resort, and for the short term.
"Antipsychotics have potential to do real harm to patients, including an increased risk of stroke. There are viable alternatives - including behavioural therapies - that we should encourage wherever possible to ensure the care our patients receive is appropriate, in their best interests and does not cause them harm."
Rebecca Wood, Chief Executive of Alzheimer's Research UK, the UK's leading dementia research charity, said:
"Action to reduce the prescription of these drugs and develop alternative treatments has lacked urgency.
"This campaign should renew that urgency and drive home the need to invest in more research so that safer, more effective treatments can be found."
Martin Green of the English Community Care Association, a body that represents care providers, said: "ECCA really welcomes the commitment by the Department of Health to reduce anti-psychotic prescribing and we want to see all sections of the system - primary care, acute hospitals, pharmacists and care homes - working in partnership to reduce inappropriate anti-psychotic prescribing".