New children's paracetamol limits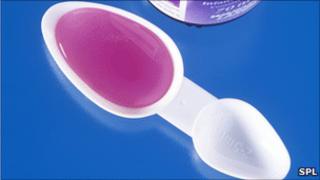 Parents are being given updated advice on how much paracetamol they can give to young children.
Currently there is a single recommended dose for all children aged between six and 12.
The Medicines and Healthcare Products Regulatory Agency says there will be more specific dosing instructions for narrowed age brackets.
Updated instructions will be included on packaging by the end of 2011.
Until then parents are advised to follow current advice.
Dr June Raine, the MHRA's director of vigilance and risk management of medicines, insisted the change was not because of safety concerns.
"The change is to ensure children get the most optimal dose of paracetamol suitable for their age.
"This updated dosing advice will clarify the doses, making it easier for parents and carers to know exactly how much paracetamol they should give their children."
The current six to 12-year-old age band will be split into three bands.
For example, the guidance currently says children aged six to 12 should have 5ml to 10ml of medicine, up to four times in 24 hours.
By the end of this year, the pack will read 5ml for those aged six to eight, 7.5ml for those aged eight to 10 and 10ml for those aged 10 to 12.