New cancer test wins £50,000 innovation prize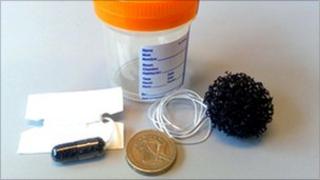 A new, cheap, less-invasive way to test for oesophageal cancer has won £50,000 as one of the first of the Department of Health's innovations awards winners.
Cytosponge, a test for oesophageal cancer costing £25 compared to the £600 of a traditional endoscopy, came second in the DoH's Innovation Challenge.
The awards recognise ideas developed by frontline staff to deliver solutions to the problems facing their patients.
The method was developed in Cambridge at Addenbrookes University Hospital.
Dr Rebecca Fitzgerald and her team at the Cambridge Medical Research Council Cancer Unit were awarded £50,000 for their innovation.
The method consists of a sponge enclosed in a pill on a fine medical cord that patients swallow.
Seven times cheaper
Once the pill has dissolved, the sponge is removed from their oesophagus or gullet, collecting cells on the way.
The cells can be tested using a new molecular test for Barrett's Oesophagus - a condition which is the major risk factor for this type of tumour.
The Cytosponge can be used by primary health carers.
If this screening test detects cancer very early then patients can be cured with endoscopy treatment, which is seven times cheaper than an operation and much less invasive.
Dr Fitzgerald's invention was recognised as being both beneficial to patients and cost effective for Cambridgeshire NHS.
Health Minister Simon Burns said: "We need to support innovation in the NHS, not suffocate it. In every hospital, GP practice and clinic we need to ensure innovation can flourish by supporting clinicians to develop new ways of thinking and delivering care to benefit patients and the NHS.
"At a time of significant economic challenge, innovation is essential to help the NHS modernise by improving the quality of care for patients whilst at the same time delivering more for less."