Q&A: Who monitors care homes?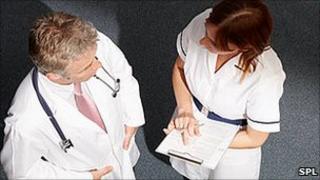 Care Services Minister Paul Burstow says he is determined to strengthen safeguards for vulnerable adults following filming by BBC Panorama at a residential hospital.
Mr Burstow said the government regulator, the Care Quality Commission (CQC), had been asked to conduct an urgent investigation.
Care homes in England are regulated by the independent body, which was set up in 2009.
The CQC also regulates the care of people whose rights are restricted under the Mental Health Act.
How are care homes regulated?
The CQC regulates all care homes - whether they are provided by the NHS, local health authorities, or voluntary organisations.
Before 2009, care homes were regulated by the Commission for Social Care Inspection.
The CQC has combined the work of three commissions for healthcare, mental health and social care: the Healthcare Commission, Mental Health Act Commission and Commission for Social Care Inspection.
The new body aims to provide common standards of care across all services.
In the future General Practitioners will also fall under its remit.
What standards are expected?
Since 1 October 2010, all health and adult social care providers have been legally responsibly for registering with the CQC.
If new homes have not registered, or are not in the process of registering, they are acting outside the law.
The regulatory body licences care providers if they meet essential standards of quality and safety.
The essential standards spell out the care people ought to be able to expect in care homes.
This includes to be cared for by qualified staff, to be told what is happening to them at every stage of care and to be involved in decisions regarding their care. Another essential standard that must be met is that care providers must constantly check the quality of their services.
Aside from checking care homes against the list of essential standards, the CQC also inspects any data received about the care home - this could be information from local authorities, or complaints. The CQC also monitors the NHS Choices website for any public expressions of concern.
How often are they monitored?
Once licensed, care homes are monitored by inspectors who check whether providers continue to meet standards.
The CQC says it now undertakes planned reviews of each care home every two years. The regulatory body says that in almost all cases, this involves someone visiting the care home.
More reviews are undertaken if there are any concerns - which can be prompted by complaints.
Most of the time the visits are unannounced, the CQC says.
The CQC says they try to fully involve people using the service under inspection. "Our inspectors make sure they talk to the people at the service to find out what they think about their care."
Care homes are required to send the CQC details of complaints they receive and how they have dealt with them.
What happens if care homes fail to reach expected standards?
There are a number of actions the CQC can take:
Depending on whether their concerns are classified as mild, moderate or severe, the CQC will ask the failing care home for an action plan to improve their services, with a stipulated deadline.
If the care home fails to meet the deadline, the CQC is able to give care home providers warnings, fines or place restrictions on certain services. For example, the CQC could stop new admissions to the residential care side of a care home if concerns lie in this area.
The CQC can "effectively close" a care home by removing their licence to operate.
"When we can we try to get them to improve conditions rather than unsettle and move people," a spokesman for the CQC said.
What can you do if you have concerns about the level of care at a home?
The CQC suggest that as a first step you take your concerns to managers of the care home.
If you are not happy with the way the complaint is dealt with, you can then take further action.
If your care home place is funded by your local council, you can approach them.
However your care is funded, if you still receive no satisfaction you can contact the Local Government Ombudsman and ask them to investigate.
The CQC does not settle individual complaints. They ask for feedback on the complaints procedure, which helps inform their monitoring process.
Restraint in care homes
What is restraint?
Restraint is not an easy term to define and lots of definitions are used.
It can be understood simply as "stopping a person doing something they appear to want to do".
A legal definition of restraint can be found in the Mental Capacity Act (2005) and its amendments:
The Act states that someone is using restraint if they:
use force - or threaten to use force - to make someone do something that they are resisting, or
restrict a person's freedom of movement, whether they are resisting or not.
The definition is interpreted by courts, looking at the details of specific cases.
Is restraint legal?
For restraint to legally occur, certain criteria need to be met:
The person lacks capacity and it will be in the person's best interests and it is reasonable to believe that it is necessary to restrain the person to prevent harm to them and the restraint is a proportionate response to the likelihood and seriousness of harm.
A definition of capacity is provided in the Mental Health Act.
The person's lack of capacity cannot be assumed simply because they have some cognitive impairment or illness.
The Mental Health Act 2007 has amended the Mental Capacity Act to introduce the deprivation of liberty safeguards.
The safeguards apply to hospitals and to care homes to ensure that people who lack capacity are not deprived of their liberty without lawful authorisation.
The inappropriate use of restraint is against the law.
Why are people restrained?
In care home settings, people are restrained if their actions are harmful to themselves and cannot be stopped in any other way.
There is tension between an individual's liberty and safety in the use of restraint.
What types of restraint are there?
There are many forms of restraint and whether an action constitutes restraint depends on the circumstances it is used in.
Physical restraint: bed rails, heavy table to stop someone getting up from a chair, holding someone down
Chemical restraint: prescribed medication
Electronic surveillance: closed circuit TV, door alarms
Psychological restraint: behavioural methods