Lung patients reassured over ash cloud from Iceland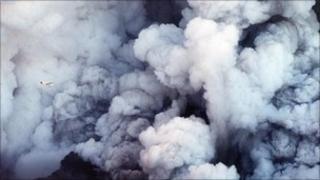 Experts are reassuring people with lung conditions like asthma that the ash cloud travelling to the UK from Iceland should pose no real health threat.
The International Volcanic Health Hazard Network, which is monitoring the situation, expects very little ash to fall on Britain.
Air quality should remain good and not trigger breathing problems.
But medics are advising those who might be susceptible to carry their medication as a precaution.
The Gromsvotn volcano began erupting on Saturday.
But scientists believe it will not be as disruptive as last year's eruption in Iceland of a different volcano.
The Eyjafjallajokull volcano's unusual ash size distribution, combined with unusual weather patterns, made life difficult across Europe during the late spring and early summer of 2010.
'Relatively tame'
About 20 countries closed their airspace and it affected hundreds of thousands of travellers.
But even then, it had little impact on the health of people in the UK. The International Volcanic Health Hazard Network found almost no traces of ash on UK soil.
Even in areas of the UK where the fine ash from the eruption fell out of the plume and was deposited on the ground, there were no unusual consequences - most of the ash particles were too coarse and at too low a concentration to have any detectable impact on air quality.
And the impact of the Grimsvotn volcano looks to be tamer than this, according to University of Iceland geophysicist Pall Einarsson.
The ash particles from this eruption are said to be larger than last year and, as a result, should fall to the ground more quickly.
But lung experts are still advising precaution.
Dr Keith Prowse, of the British Lung Foundation, said: "In light of the latest news that ash from the volcanic eruption in Iceland could reach the UK by Tuesday, we would advise people living with a lung condition in affected areas to carry their medication as a precaution."
Erica Evans, of Asthma UK, said: "We know that volcanic ash can trigger asthma symptoms like coughing, wheezing and shortness of breath. However, as the ash is very high in the atmosphere it does not pose an immediate problem. Asthma UK advises people with asthma to monitor the news to see whether the ash cloud moves closer to the UK.
"People with asthma should make sure they maintain their regular asthma medicine and keep their emergency inhaler on them at all times."
Both charities say they can offer advice via a telephone helpline to anyone who may be concerned.