Bid to boost blood cancer survival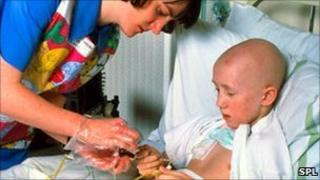 A network of clinical trial centres is launching in a bid to improve poor survival rates for patients with a variety of blood cancers.
Each year these cancers kill more than 12,000 people in the UK - a higher toll than from breast and prostate cancer.
Yet relatively little research is dedicated to these "rarer" cancers.
The charity Leukaemia & Lymphoma Research hopes to speed up the delivery of new drug treatments by linking together 13 UK research centres.
There are so many different blood cancers - the most common cause of cancer deaths in the under 35s - that it has often been seen as uneconomical to develop drugs for many types, says the charity.
Insufficient resources
And when new drugs are available, often clinical trials are not set up because of the difficulties of recruiting enough patients at a single hospital to make them workable.
Those that do get off the ground can take as long as 10 years to complete.
The charity's clinical trials adviser, Professor Charlie Craddock, of the University of Birmingham and University Hospitals Birmingham NHS Trust, said: "Every doctor will tell you that they are routinely turning down promising new drugs because they don't have the resources to conduct early stage clinical trials.
"We have a moral case for getting new drugs out there as soon as possible - if you have a relative with a blood cancer, you don't want life-saving treatment available in 10 years. You want it now."
The charity, with financial help from pharmaceutical companies and NHS hospitals, says the network will see trials completed within two years, bringing £50m of promising new drugs to patients.
Kate Law, director of clinical research at Cancer Research UK, welcomed the initiative, saying: "It is great news for patients with leukaemia, lymphoma and myeloma, and we hope to see these trials making a real impact in the coming years."