GP group backs NHS reforms in Telegraph letter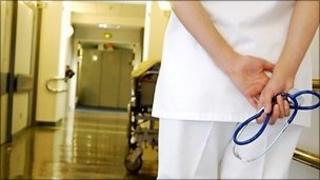 A group of doctors from GP consortiums in England has said they back NHS reform plans wholeheartedly.
In a letter published in the Daily Telegraph, they said they wanted the government to press on with its Bill.
Much recent criticism of it had been "noticeably misinformed", they said.
The proposals - which give GPs more control over NHS budgets and increase the private sector role - have been criticised by the Royal College of GPs.
The Telegraph letter's lead signatory is Dr Jonathan Munday, chairman of the Victoria Commissioning Consortium, and a former Conservative councillor and mayor.
The other signatories are also chairmen and chairwomen of GP consortiums, who said they had already been working on commissioning care for the last three of four years.
Echoing earlier comments by prime minister David Cameron, they said the reforms were "not revolutionary but an evolution".
"[They are] a natural conclusion of the GP commissioning role that began with fundholding in the 1990s and, more recently, of the previous government's agenda of GP polysystems and pratice-based commissioning," they said.
The doctors said all that had been proposed was that "instead of clinicians working under the direction of bureaucrats, the balance of influence and responsibility should change".
"Our patients should feel comfortable that decisions about the local provision of health care are to be taken in future by their family doctors, many of whom they know personally," they wrote.
They said that concerns over whether GPs had the skills to commission care were unfounded, adding that they would "not be keeping the books personally".
Part of the reforms which would co-ordinate aspects of care - primary, secondary, community and social - into a "coherent and seamless whole" would benefit "the most elderly, infirm and vulnerable people in our community, whose care is often currently too fragmented", they said.
Bill paused
Earlier this week the government fought off a Commons challenge to its plans. MPs rejected a Labour call for the proposals to be abandoned, but the coalition's parliamentary majority was cut by more than a third.
Labour called the changes "damaging and unjustified", and the Royal College of GPs said they risked "unravelling and dismantling" the NHS.
Ministers are promising "substantive" changes after criticism by Lib Dem MPs. The Deputy Prime minister Nick Clegg has said he will block the reforms unless major changes are made, including calling for guarantees there would not be "back-door privatisation".
The parliamentary debate was held on Monday, after the government agreed to stop the progress of the bill underpinning the reforms.
Last month ministers said they wanted to have a pause - despite the bill already having started to make its way through parliament - to carry out a "listening exercise" over how the plans could be improved.
A decision on how to proceed is expected in mid June.
Health Secretary Andrew Lansley has said the reforms are about ensuring the NHS had a "stronger future".
But he has said he is prepared to make changes to his plans if necessary.