Prolonged bottle-feeding 'increases obesity risk'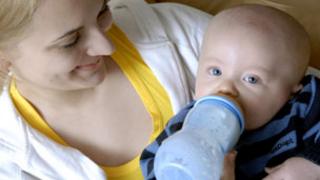 Babies who are bottle-fed until the age of two are more likely to be obese when they start school, a US study suggests.
Writing in the Journal of Pediatrics, researchers found that children who were still regular bottle users at 24 months were 30% more likely to be obese aged five-and-a-half.
They analysed data from nearly 7,000 children across the United States.
Experts say bottle-feeding can make babies consume too many calories.
The research found 22% of the two-year-olds studied were using a bottle as their main drink container, or were put to bed with a bottle containing a calorie-filled drink.
Nearly a quarter of this group were found to be obese aged five, compared with 16% of children who had not been using a bottle at the age of two.
Too many calories
The study authors, from universities in Ohio and Philadelphia, calculated the odds of obesity for children using a bottle at 24 months as 1.33 times higher than the odds for children not using a bottle.
They suggest that parents should be encouraged to stop using a bottle by the child's first birthday because of the risk of over-feeding.
"Prolonged bottle use may lead to the child consuming excess calories, particularly when parents are using the bottle to comfort the child rather than to address the child's hunger or nutritional needs," the study paper says.
Study co-author Rachel Gooze, from the Centre for Obesity Research and Education at Temple University in Philadelphia, explained: "A 24-month-old girl of average weight and height who is put to bed with an eight-ounce bottle of whole milk would receive approximately 12% of her daily caloric needs from that bottle."
The parents' charity NCT (National Childbirth Trust) advises that babies should stop using a bottle and change to a cup before 12 months.
The Royal College of Midwives agrees. Their professional policy advsior Janet Fyle says that the practices of nutrition in the family determine whether a child is still using a bottle at two years old.
"If the child is continuing to use a bottle then the mother may be tempted to put something else in it like a sugary drink or rusk with milk. Then the child gets used to sweet things in their diet," she said.
"Babies should be introduced to a cup or beaker from six months and off a bottle completely by one year."